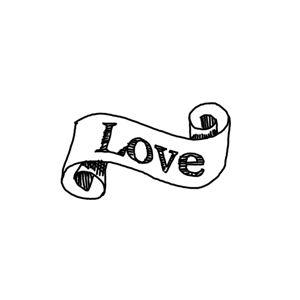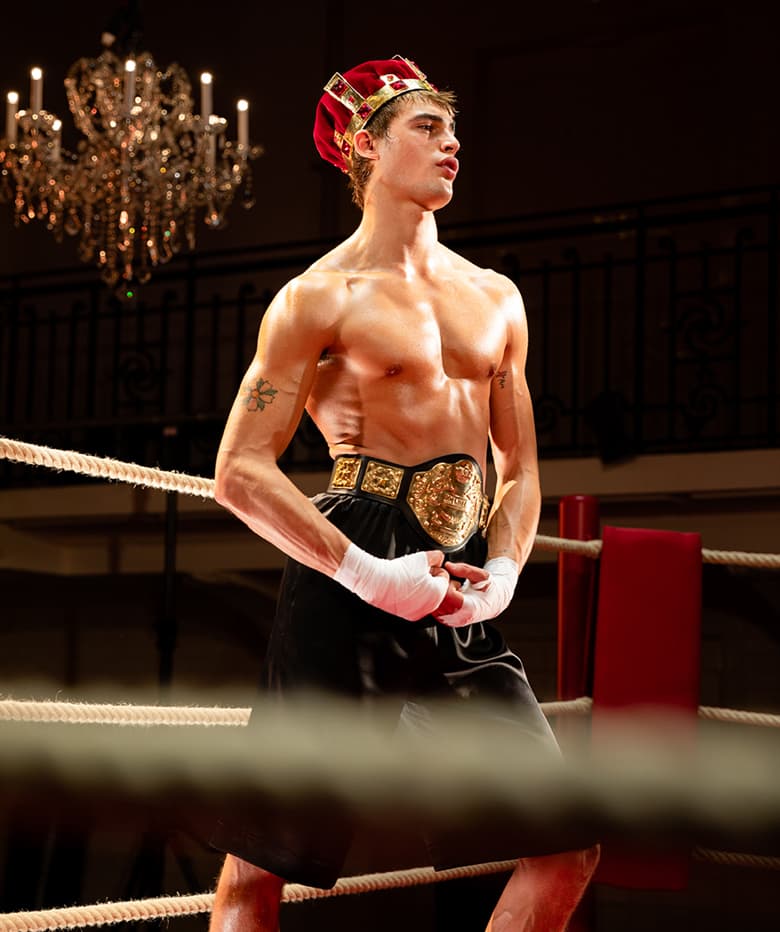 THE NEW
SCANDAL POUR HOMME
BY JEAN PAUL GAULTIER
With muscled elegance and boxing gloves on, the new SCANDAL POUR HOMME by Jean Paul Gaultier hits hard with an energizing and addictive eau de toilette. Crowned with victories, this king of the ring seduces his fans with virility contrasted by a sensual woody oriental fragrance that knocks everyone out. Let the show begin!
Refilling

new chic
is the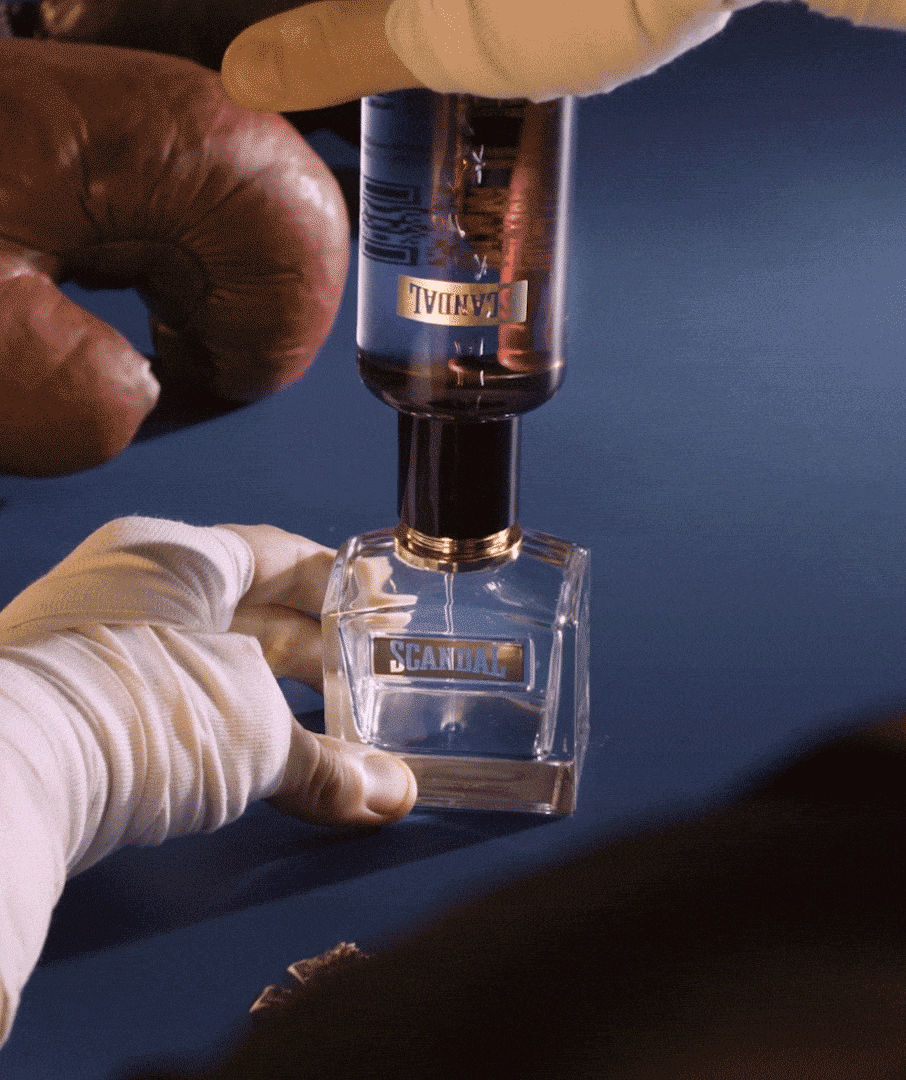 THE ECO-FRIENDLY CHAMPION OF JEAN PAUL GAULTIER
If you're spreading SCANDAL, it might as well be eco-friendly with a refillable bottle! This is the fight waged by Jean Paul Gaultier's boxer. Its ecodesigned refill will top off your 50, 100 or 150 ml bottle simply without spilling a drop thanks to its innovative unscrewable auto-stop system. A more eco-friendly way to protect the environment by using 59% less glass, 46% less plastic, 89% less metal, and 64% less packaging by weight*. A victorious win-win situation that's scandalously easy and essential.
* Using a 50 ml SCANDAL bottle with its 200 ml refill compared to five 50 ml SCANDAL bottles.
Scandal
an addictive and

sensual

fragrance
revealing an unconventional
vision of

masculinity

Pour Homme,
Perfumers
To take on this new fragrant champion, Jean Paul Gaultier chose three olfactory experts with a nose for perfume: Quentin Bisch, Nathalie Cetto and Christophe Raynaud. No one less talented would've been able to spar with the virility of its juice. Their strategy: to play with the contrast between addiction and an energizing and sensual masculinity that surprises its target with a scandalous bang. That of brown caramel coming together with the animal sensuality of leather. Designed around roasted tonka beans and drawing on notes of vetiver and cedar, this radiant eau de toilette is crowned with clary sage and mandarin. A blue-grey coloured juice that proclaims, from the very first round, the triumph of a woody oriental fragrance ready to spread its scandal over every bare chest.
PARKER VAN NOORD
Who is he?
Ready to get

into the ring?
Are you ready to take on the king? Scandal invites you to enjoy a wild choreography, so start your warm-up, and may the best man win!
Play
GAULTIER and
boxe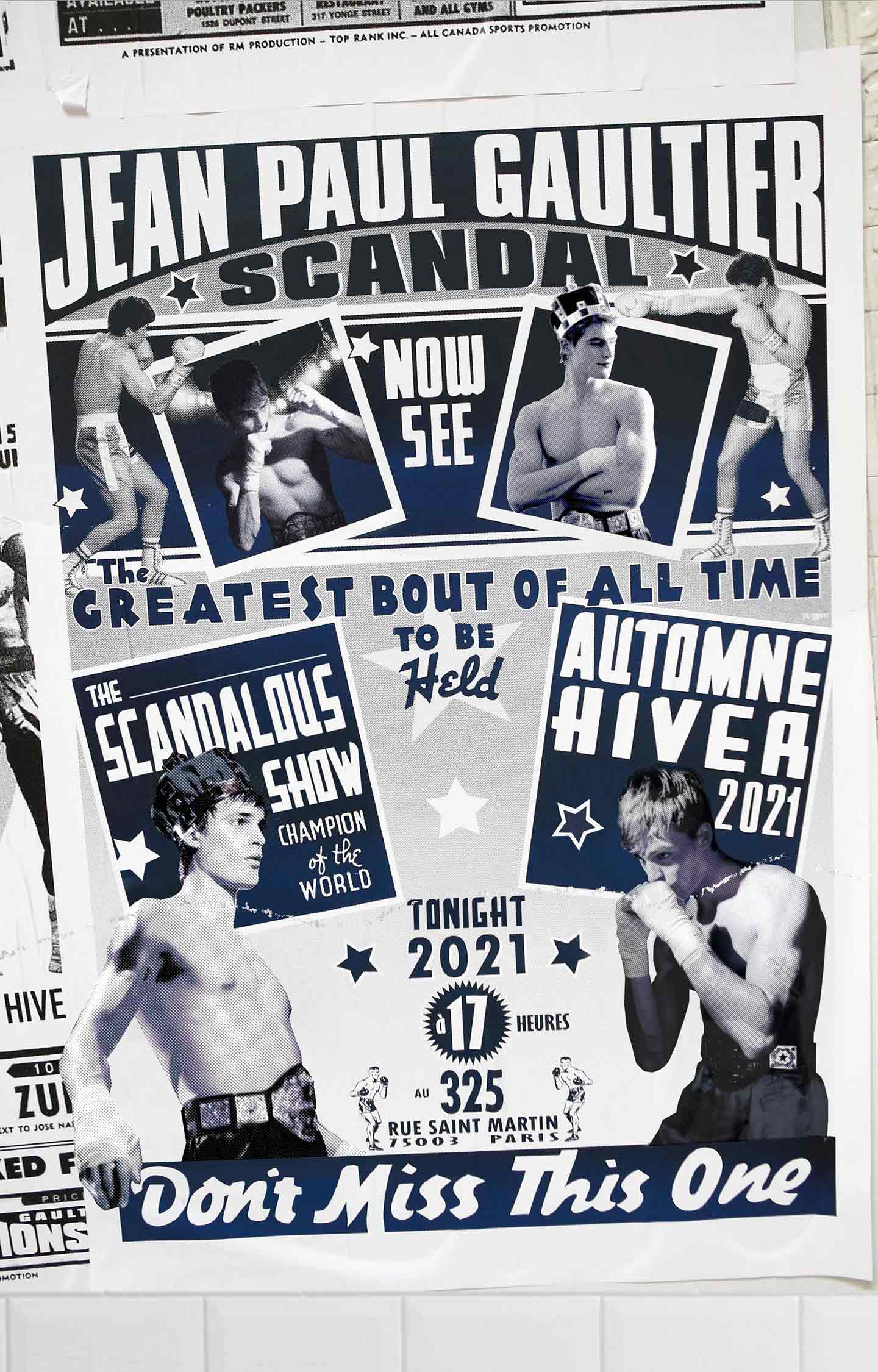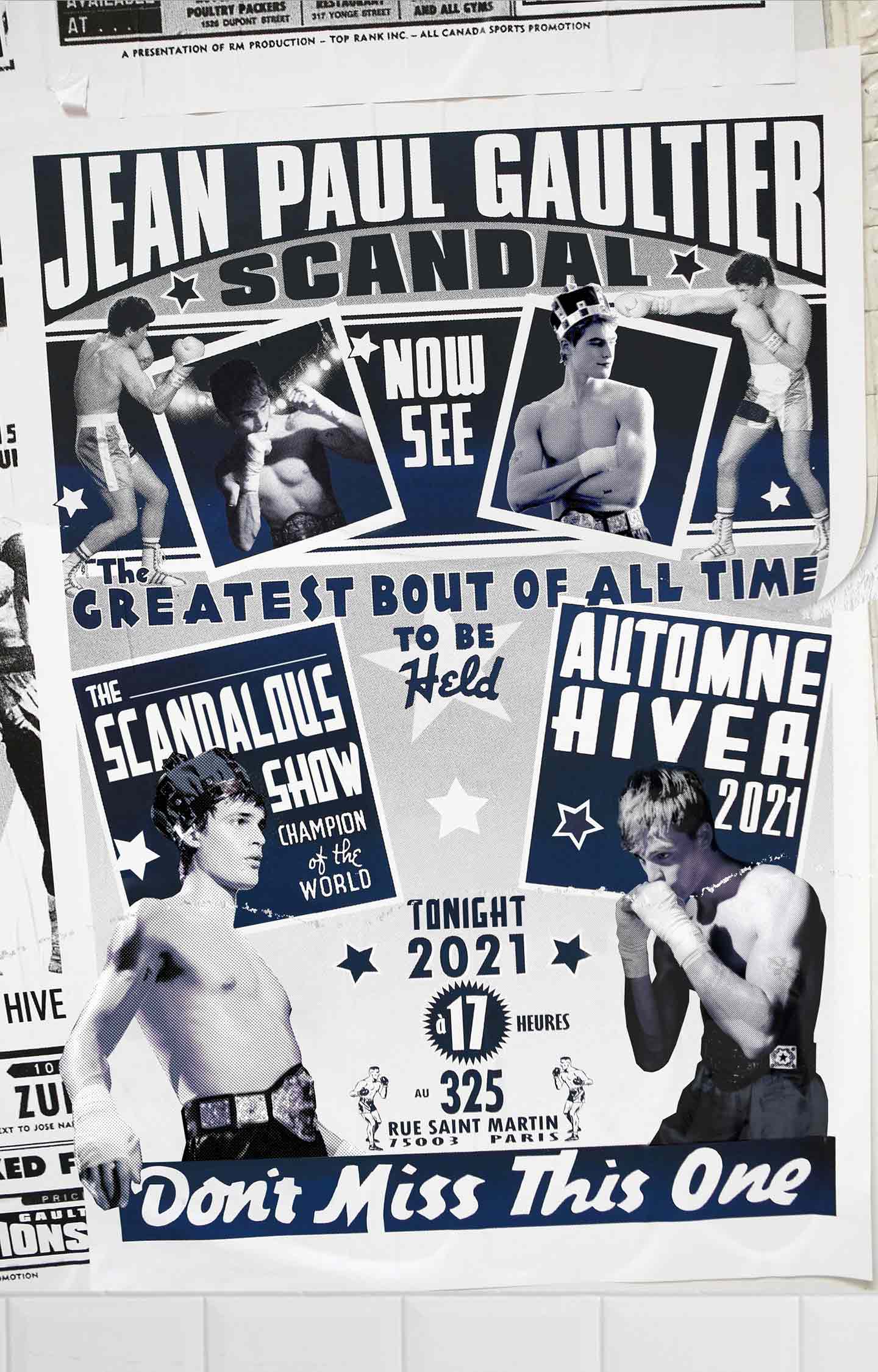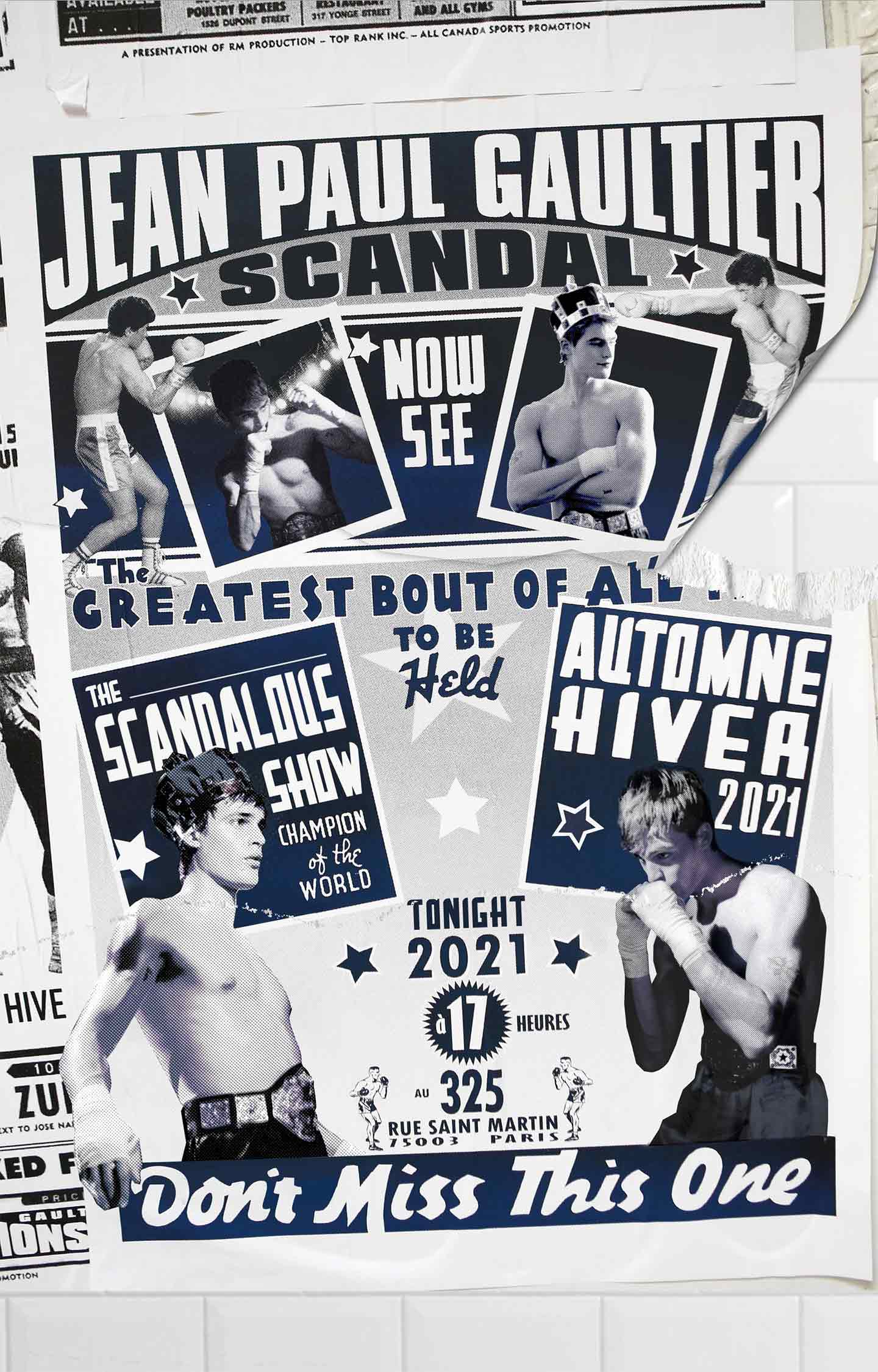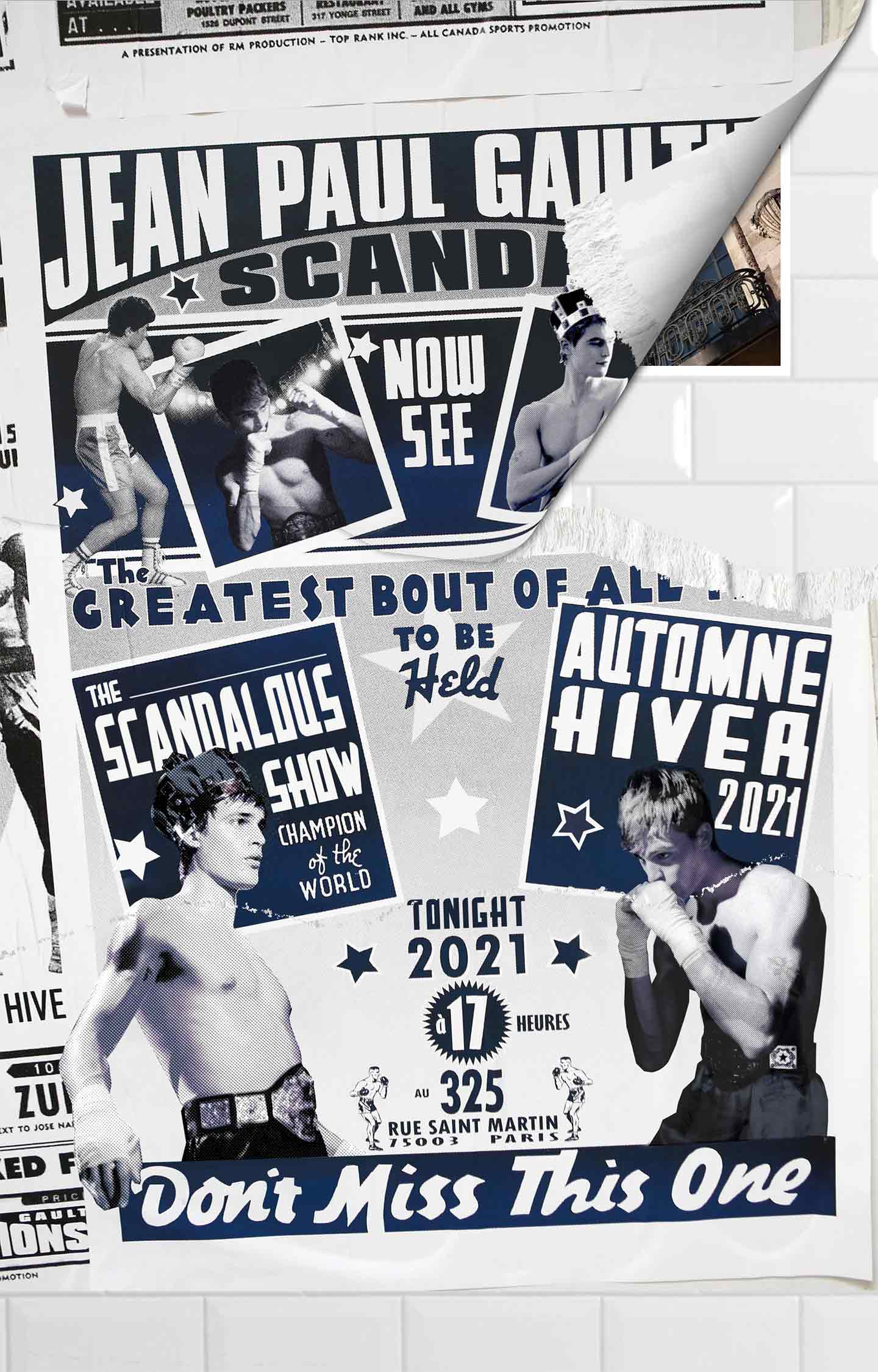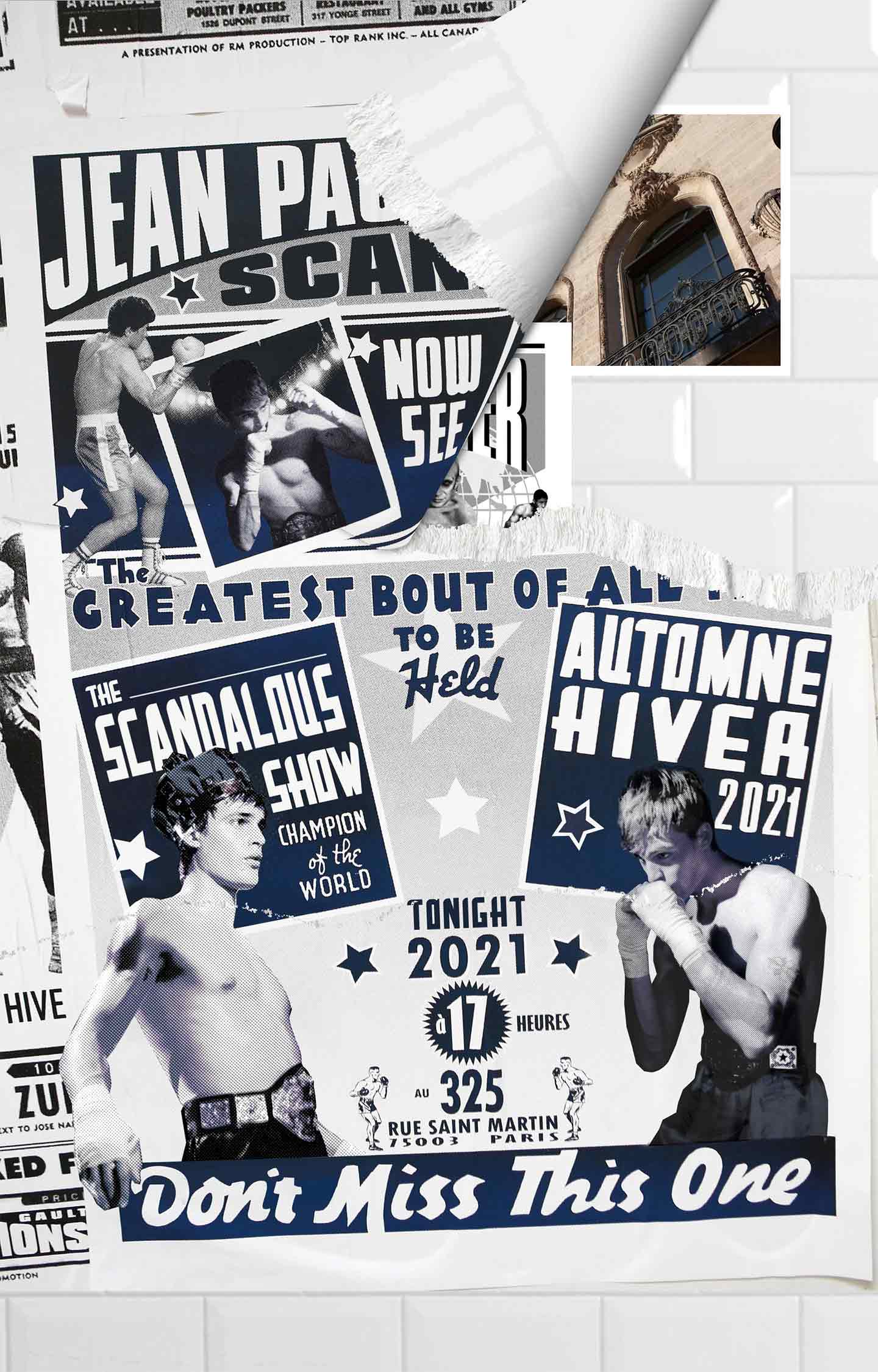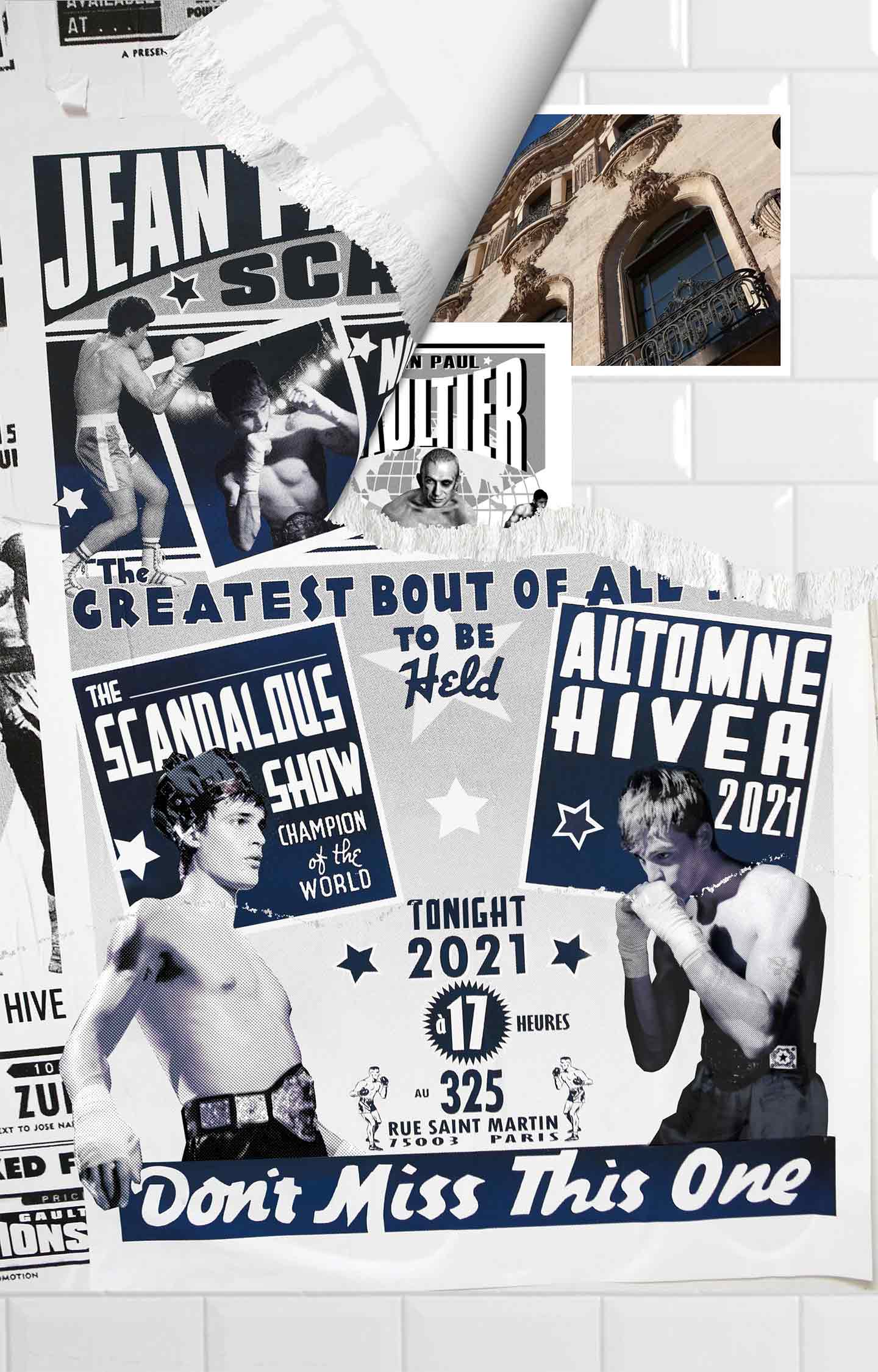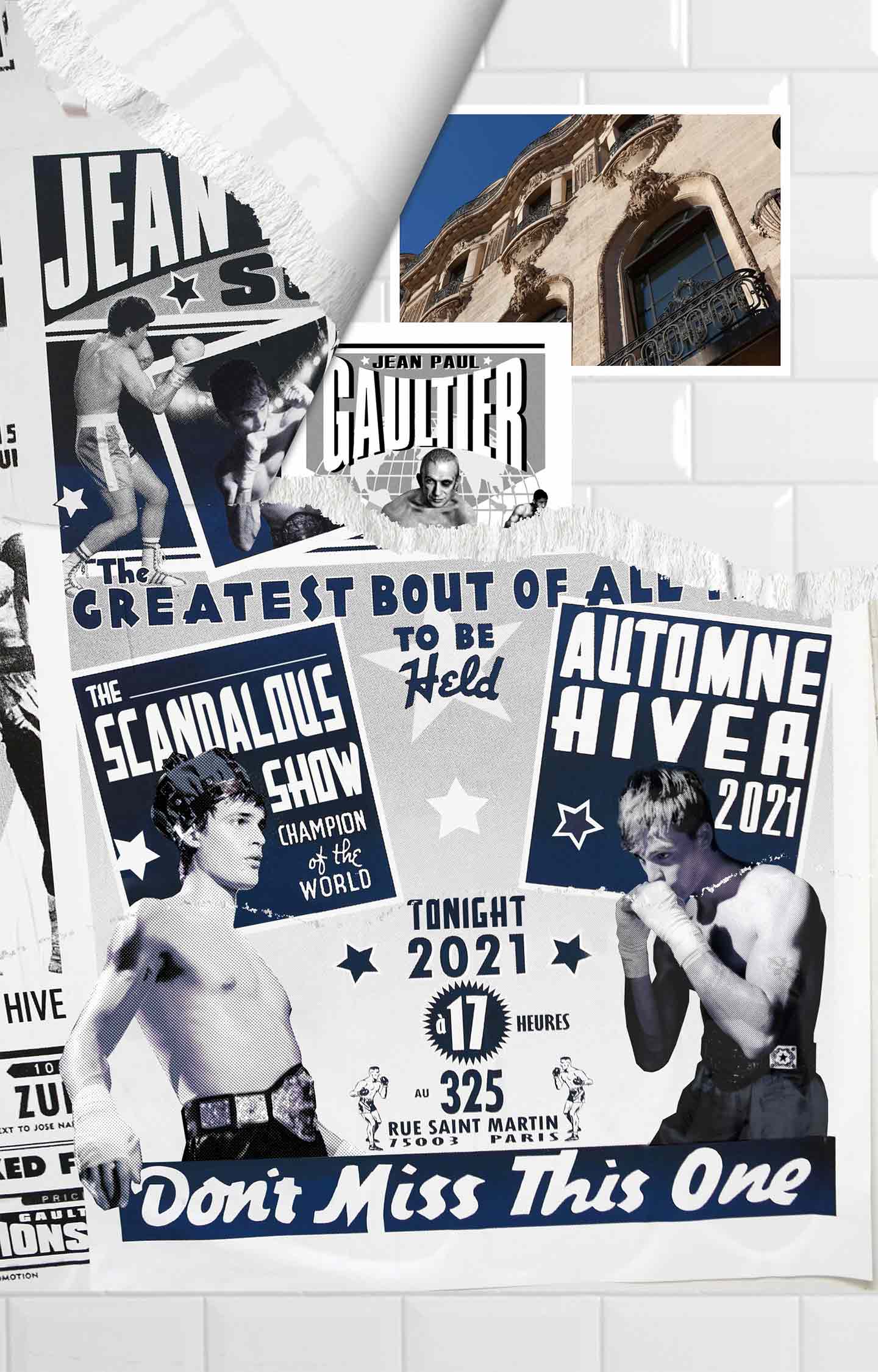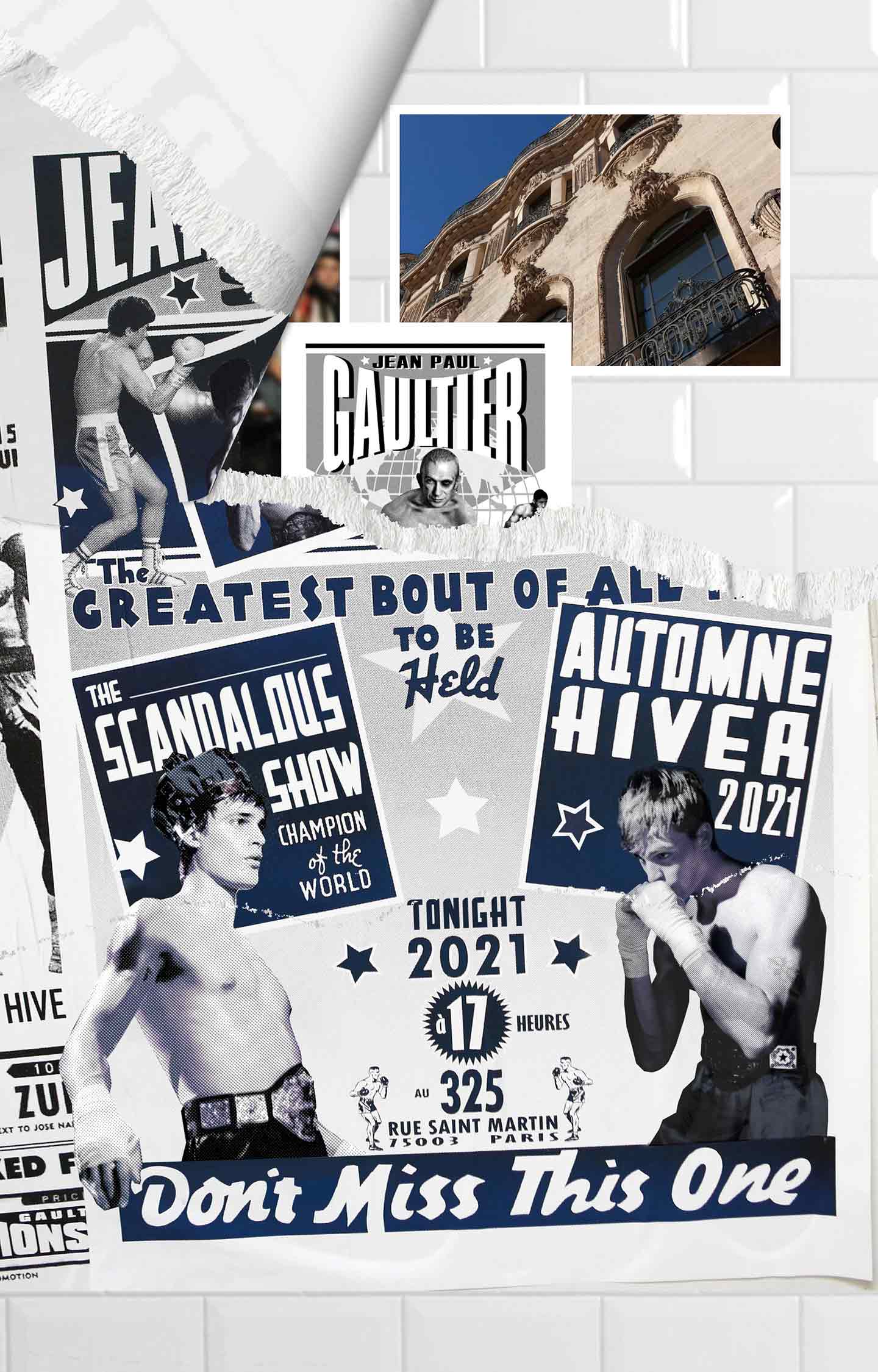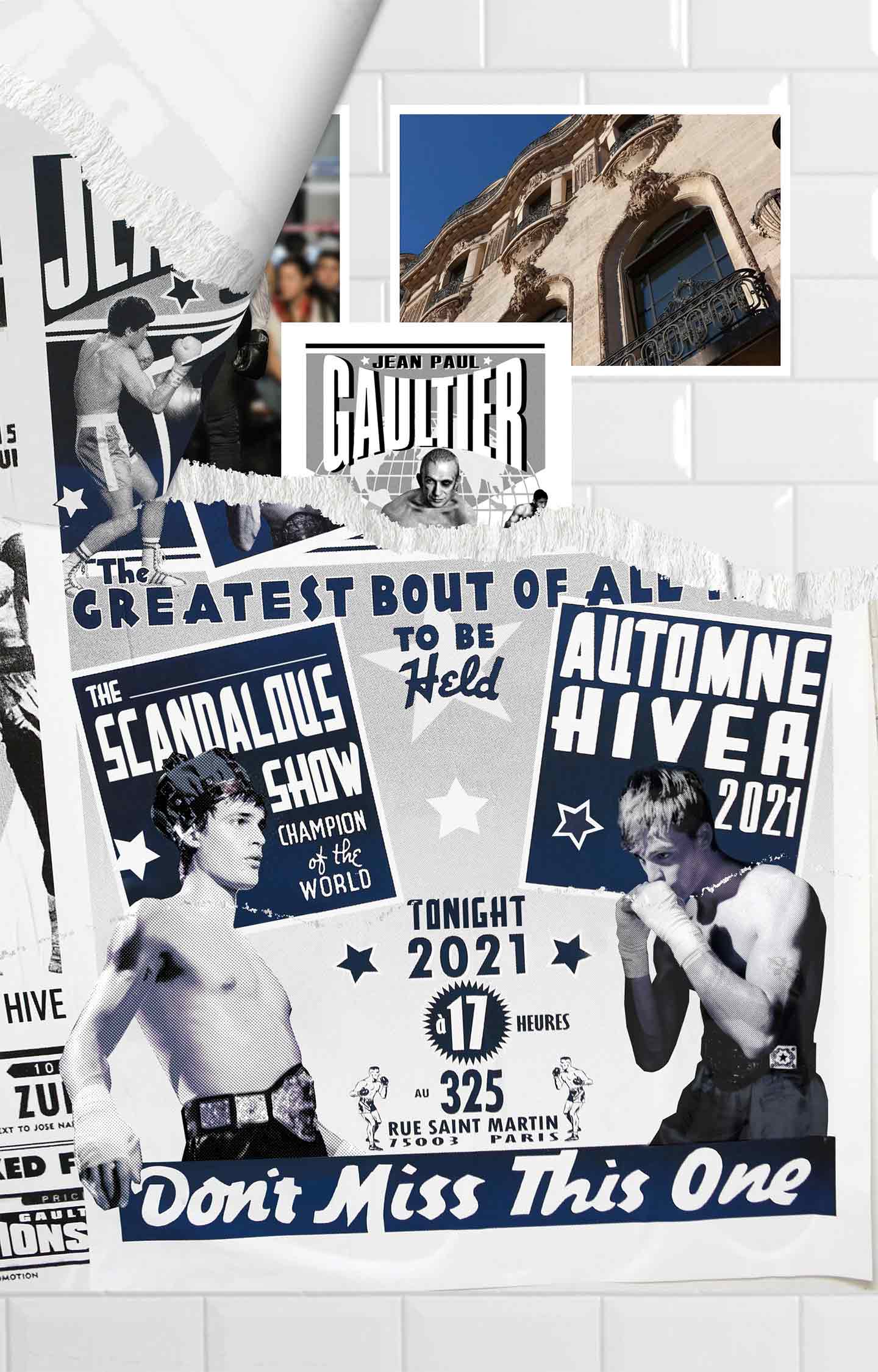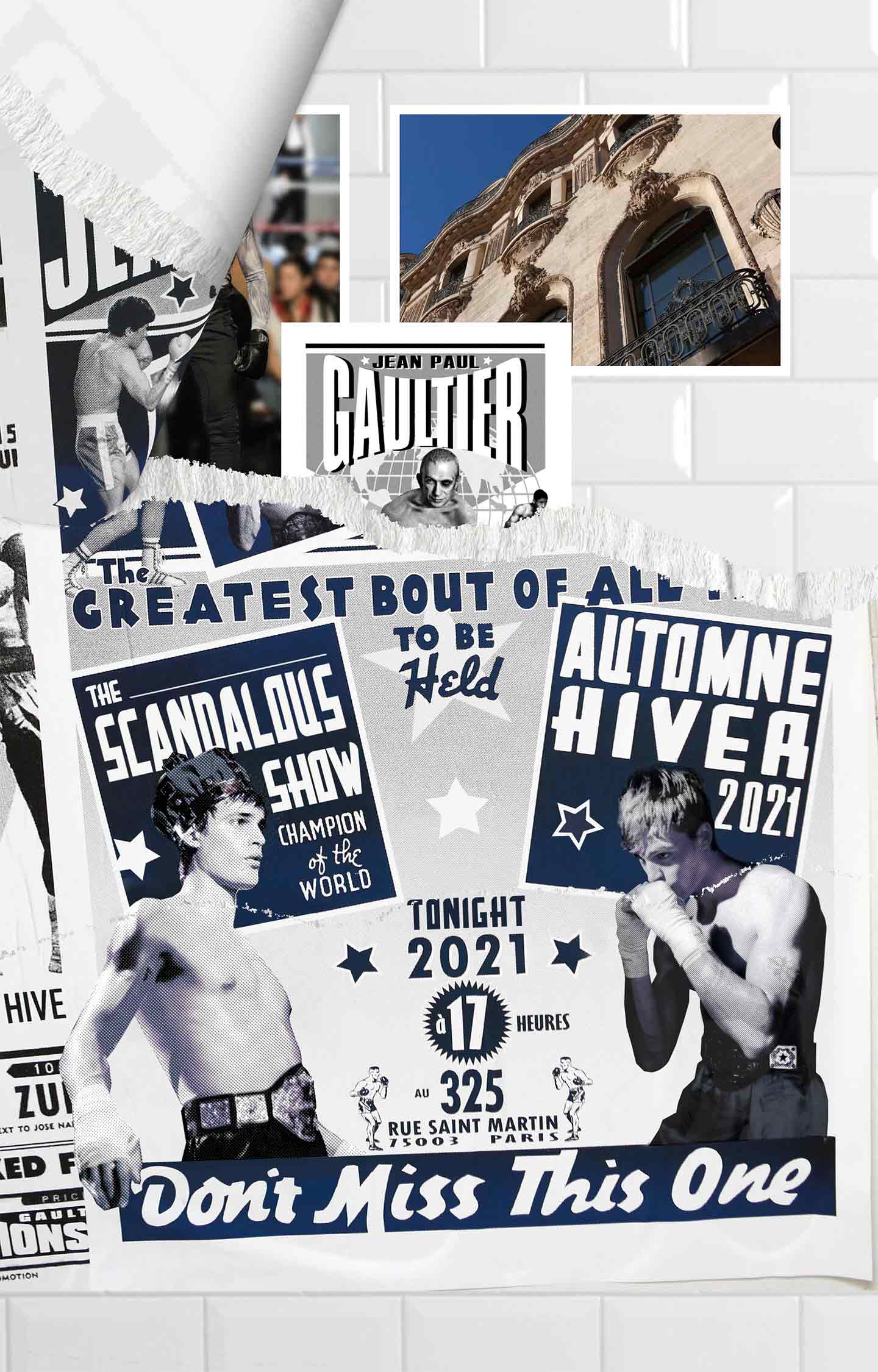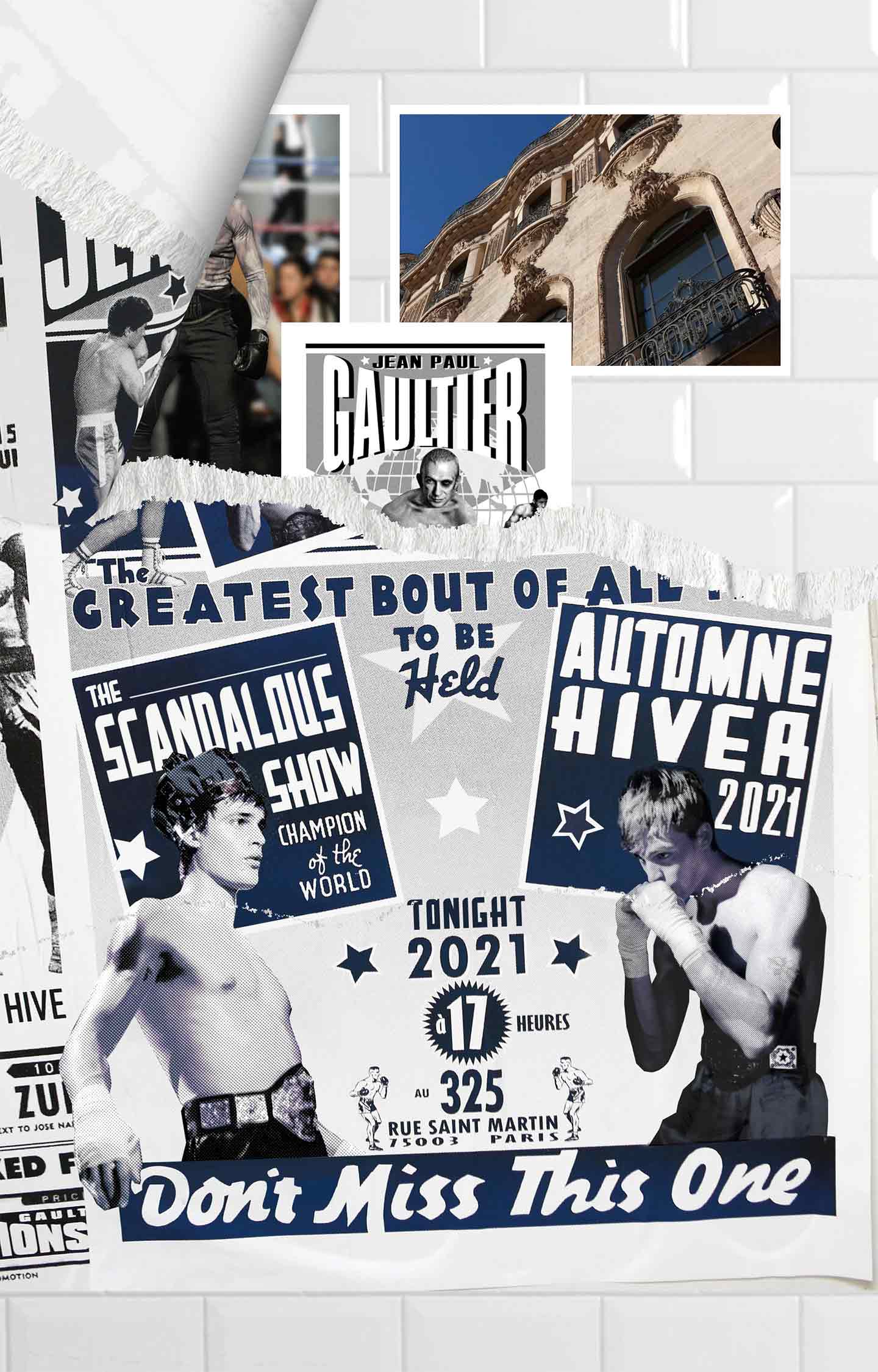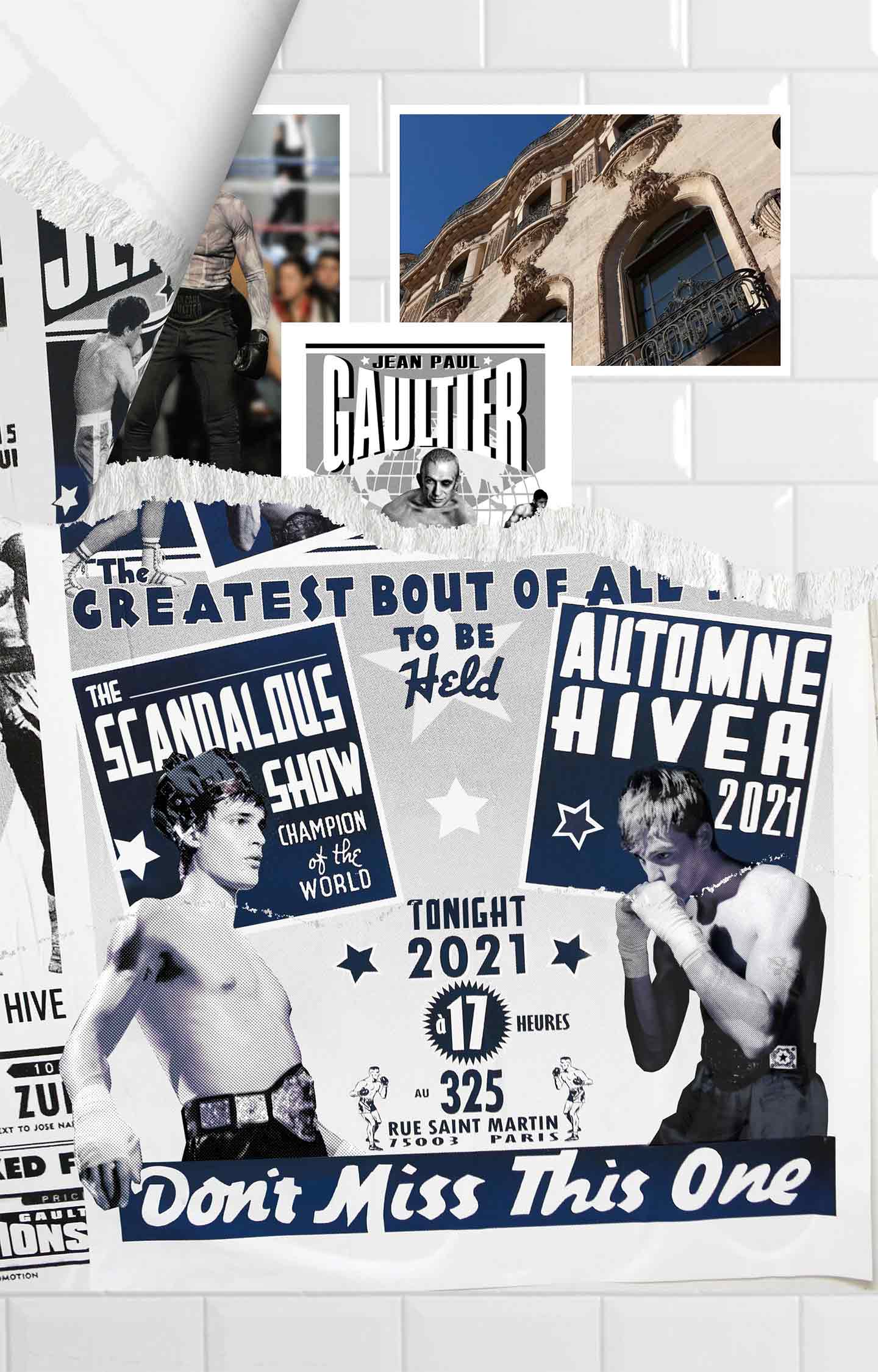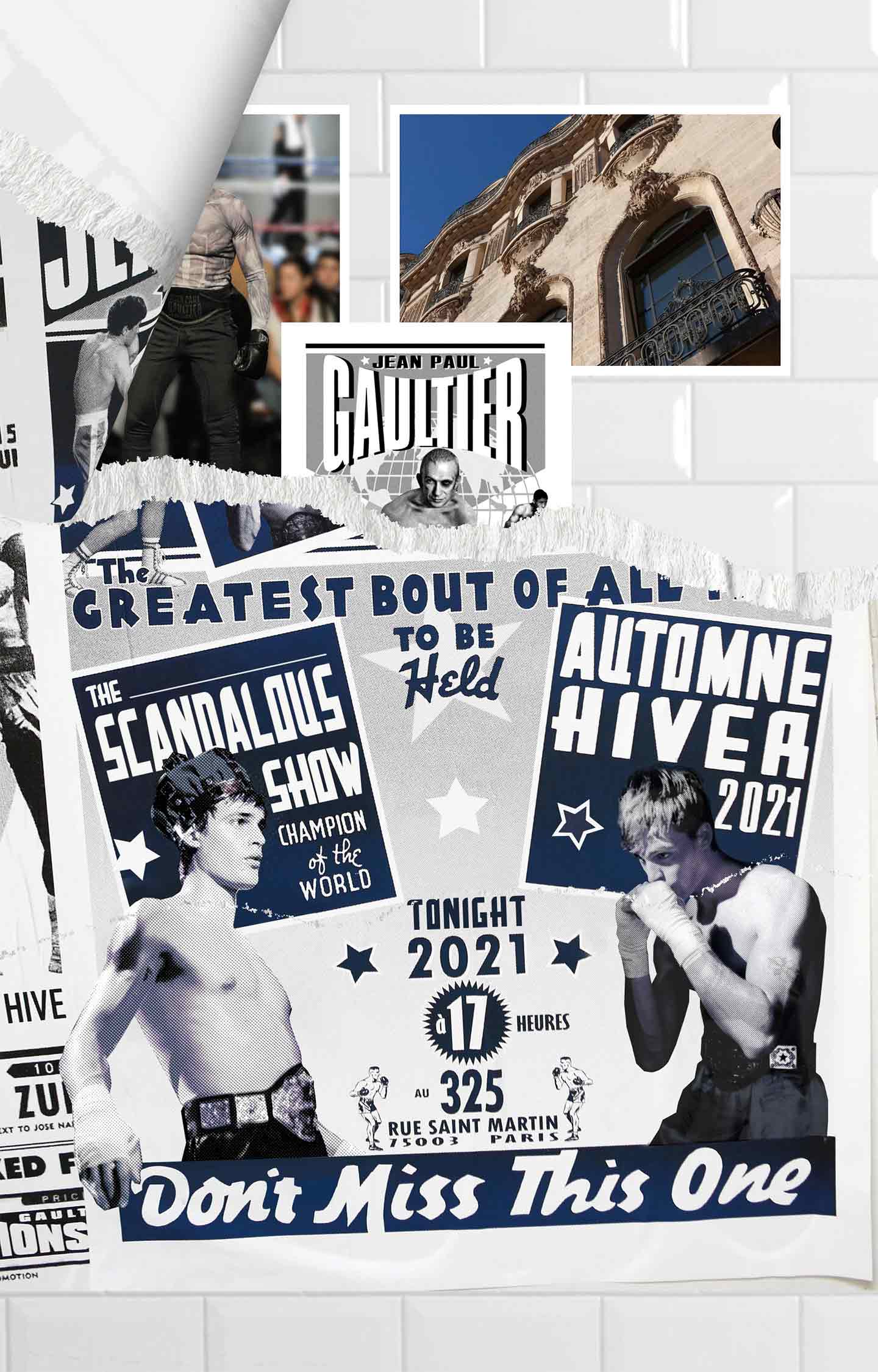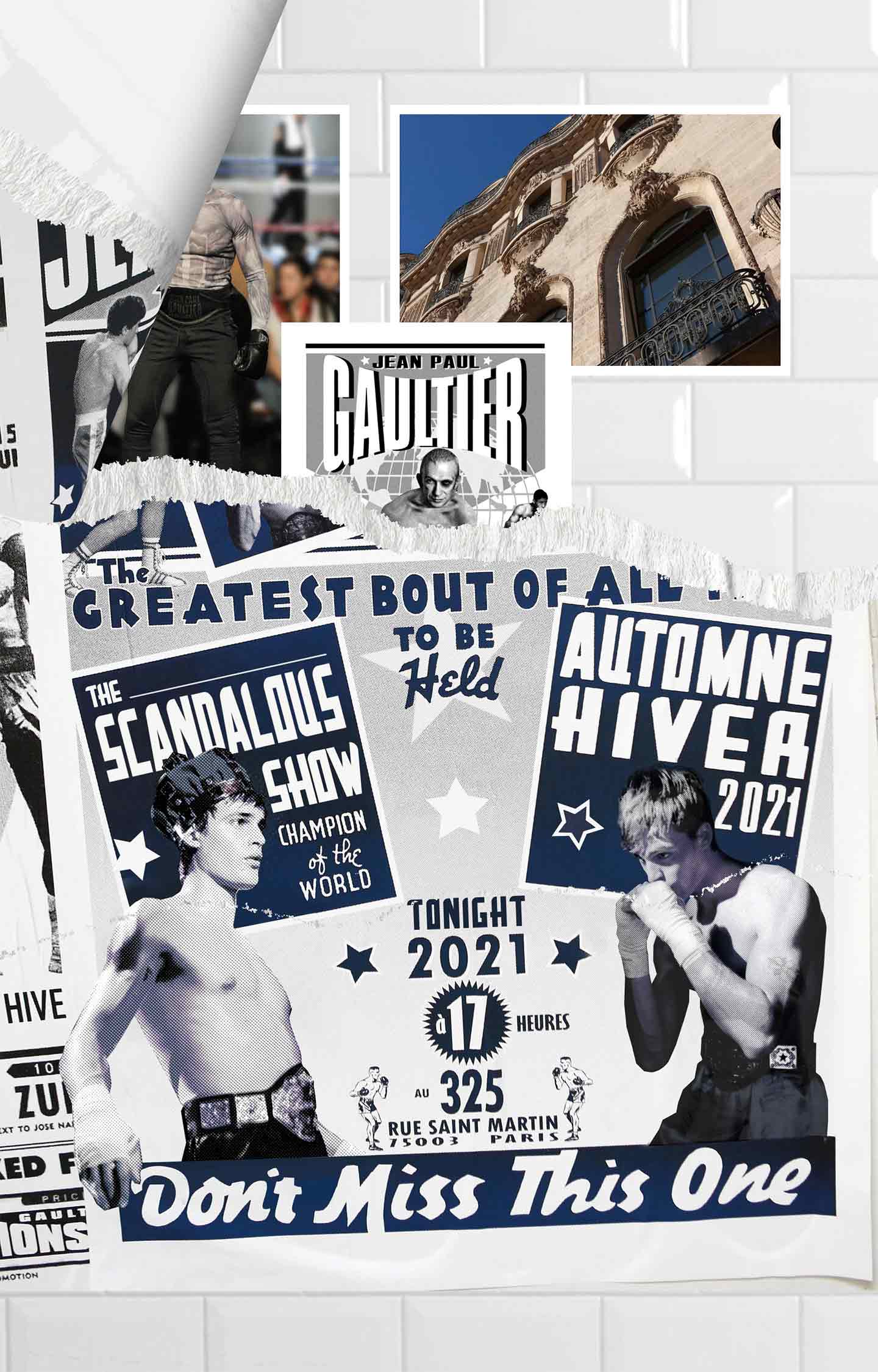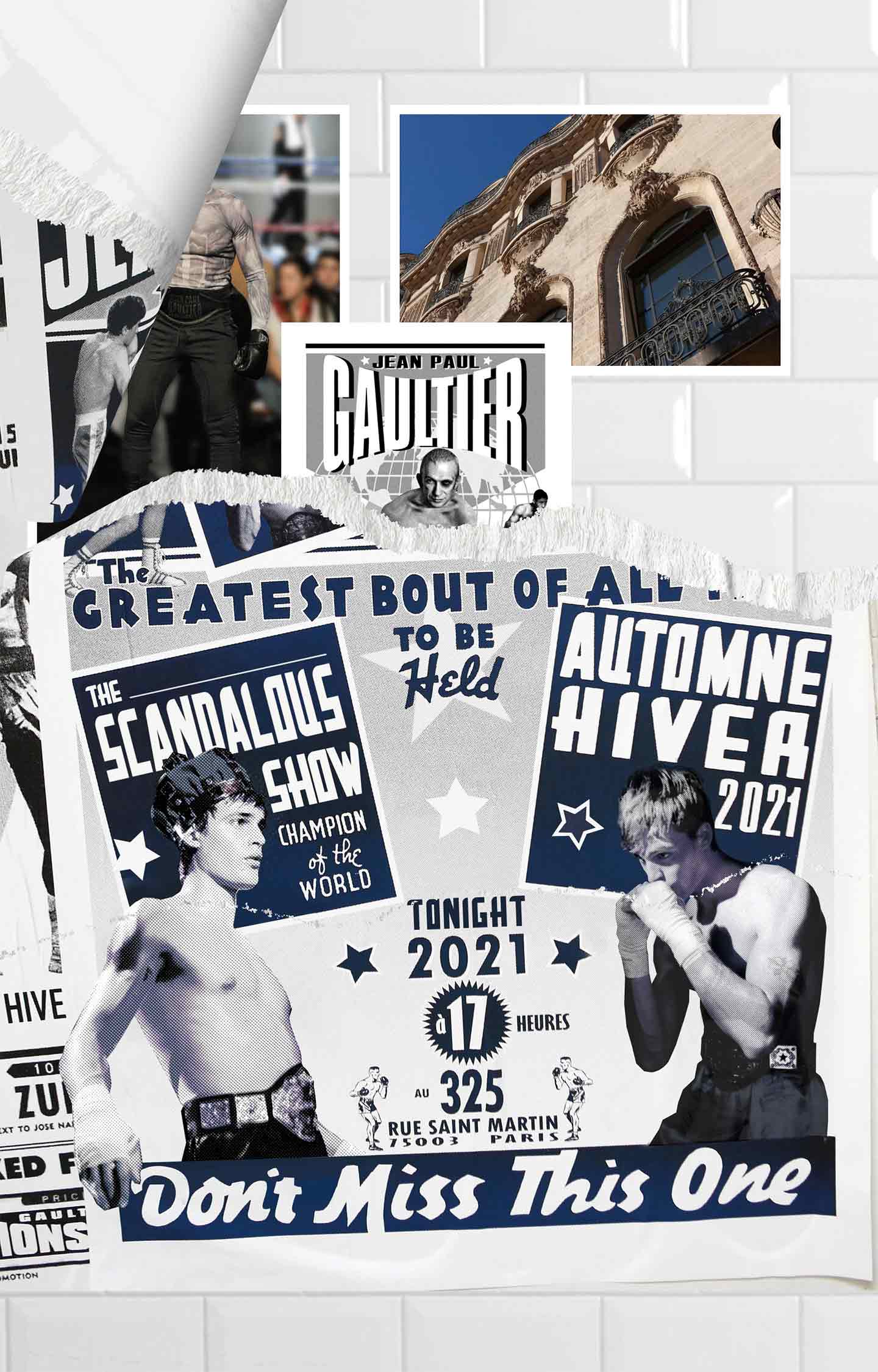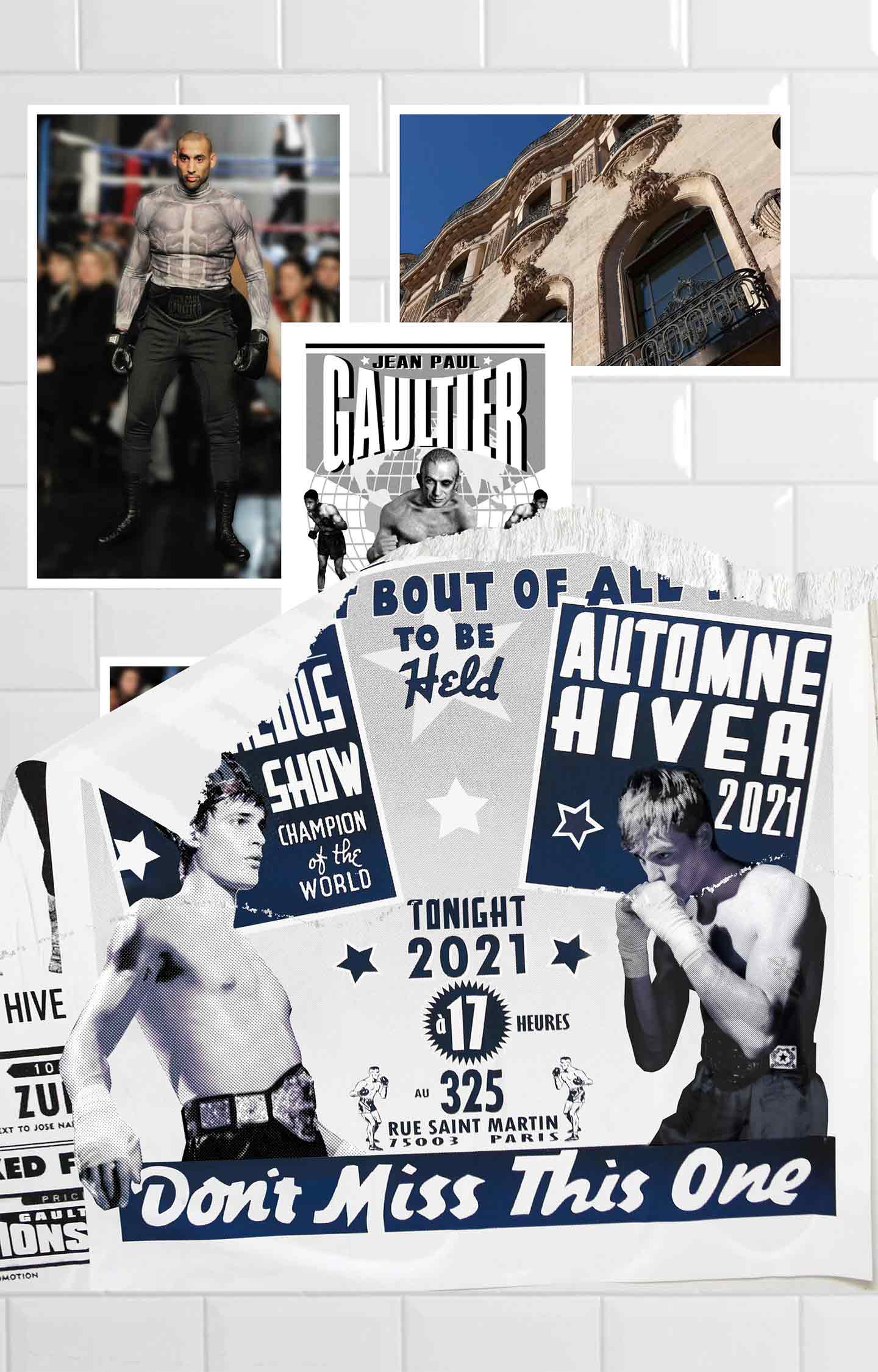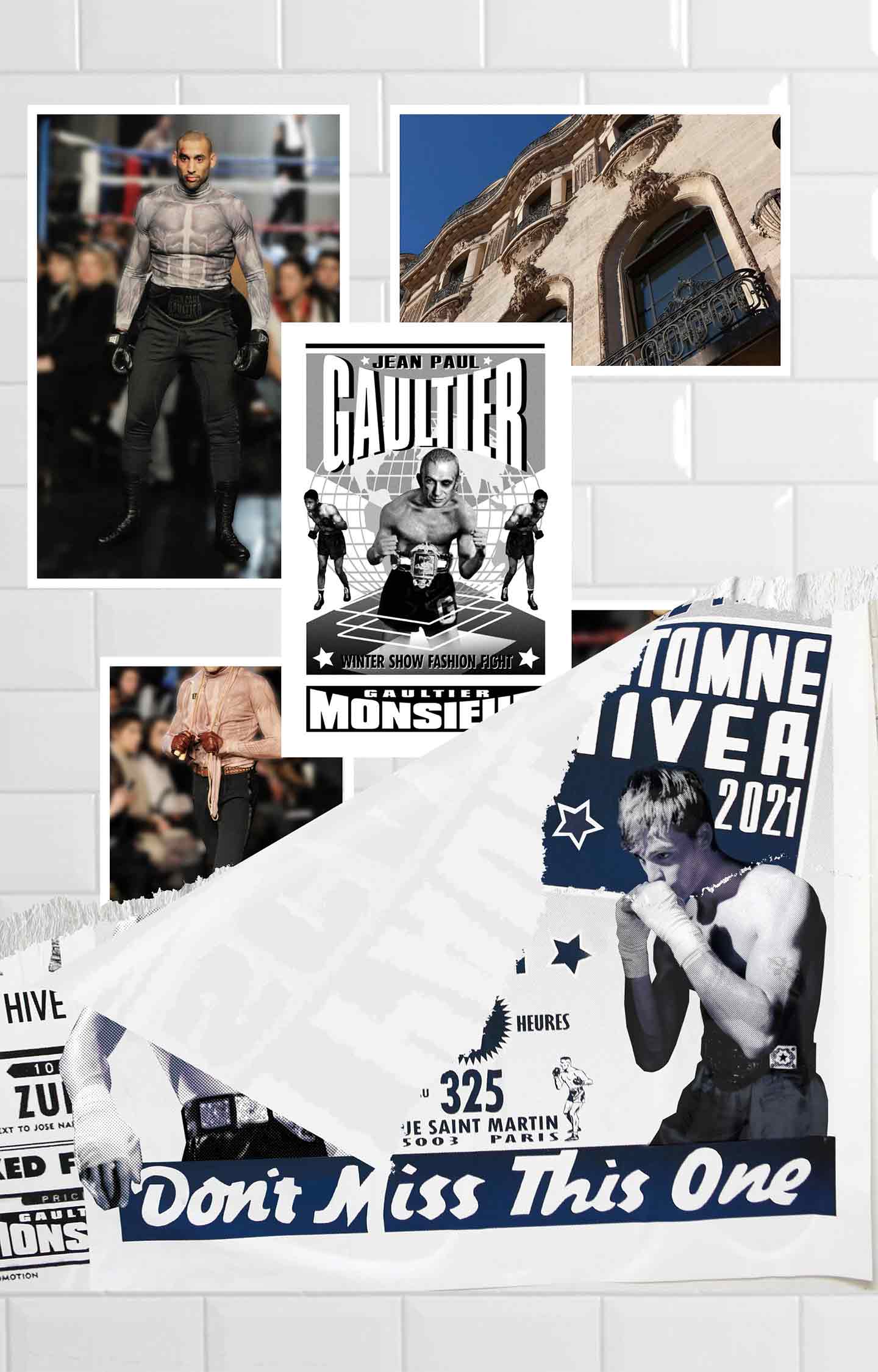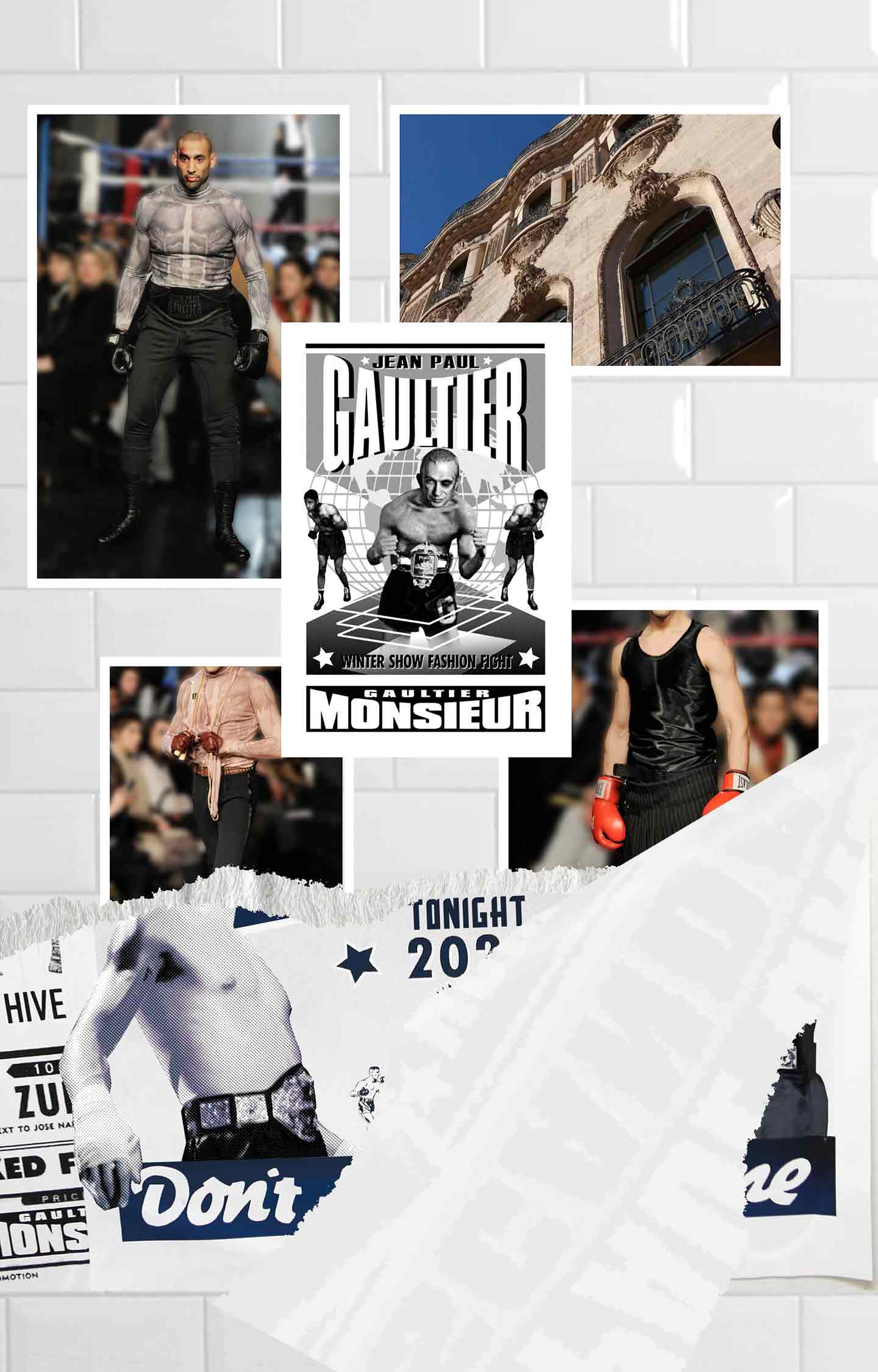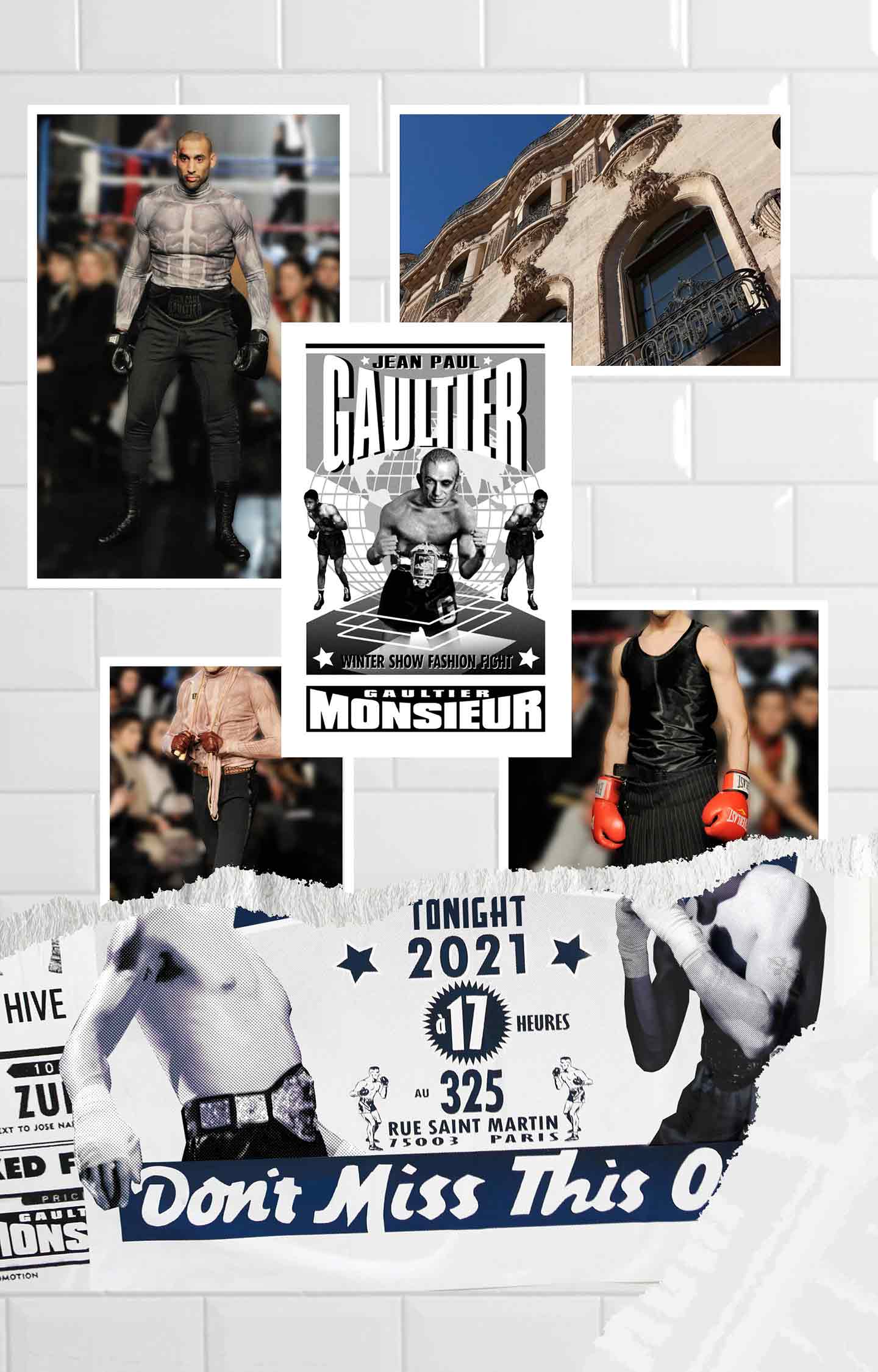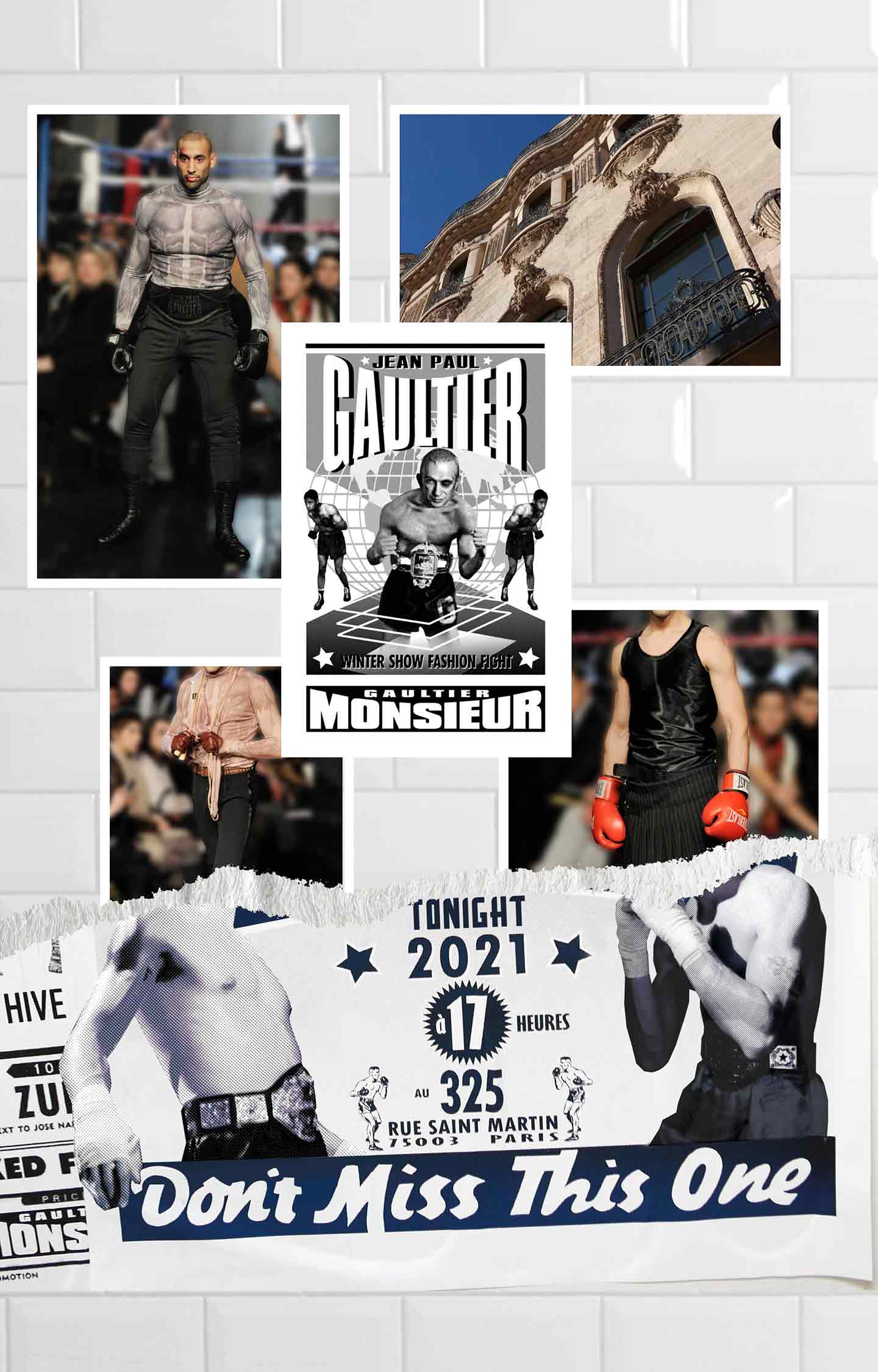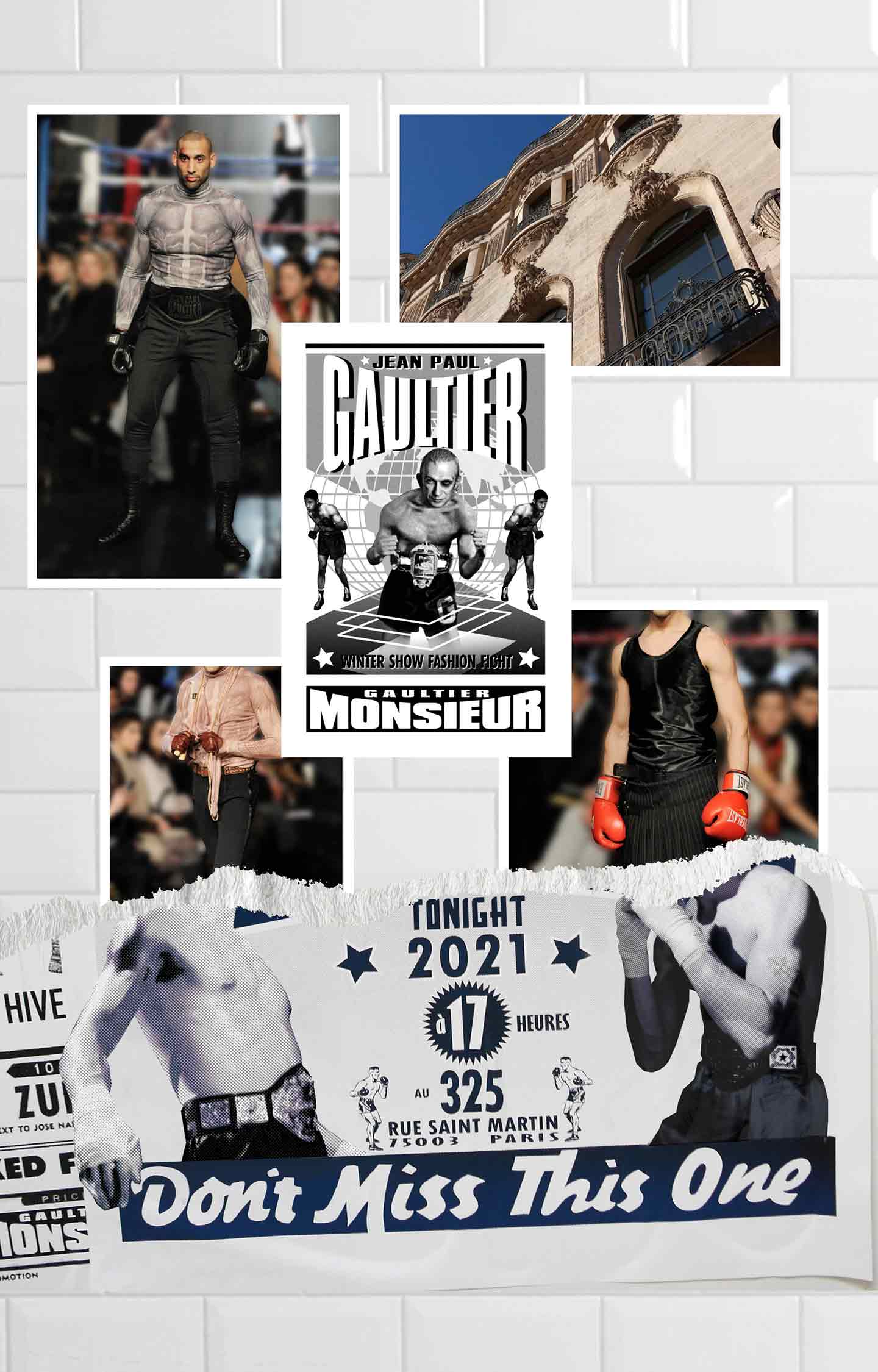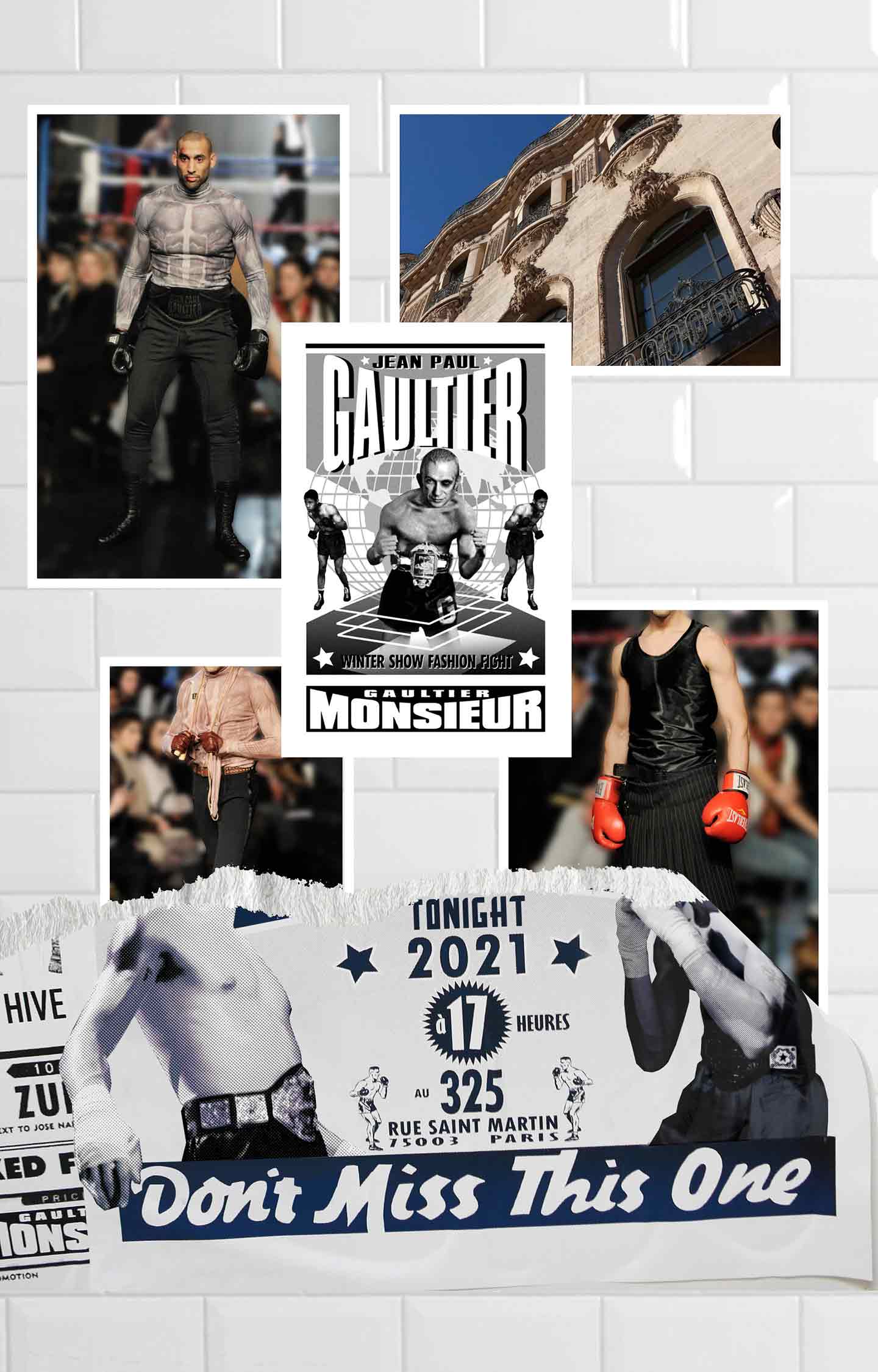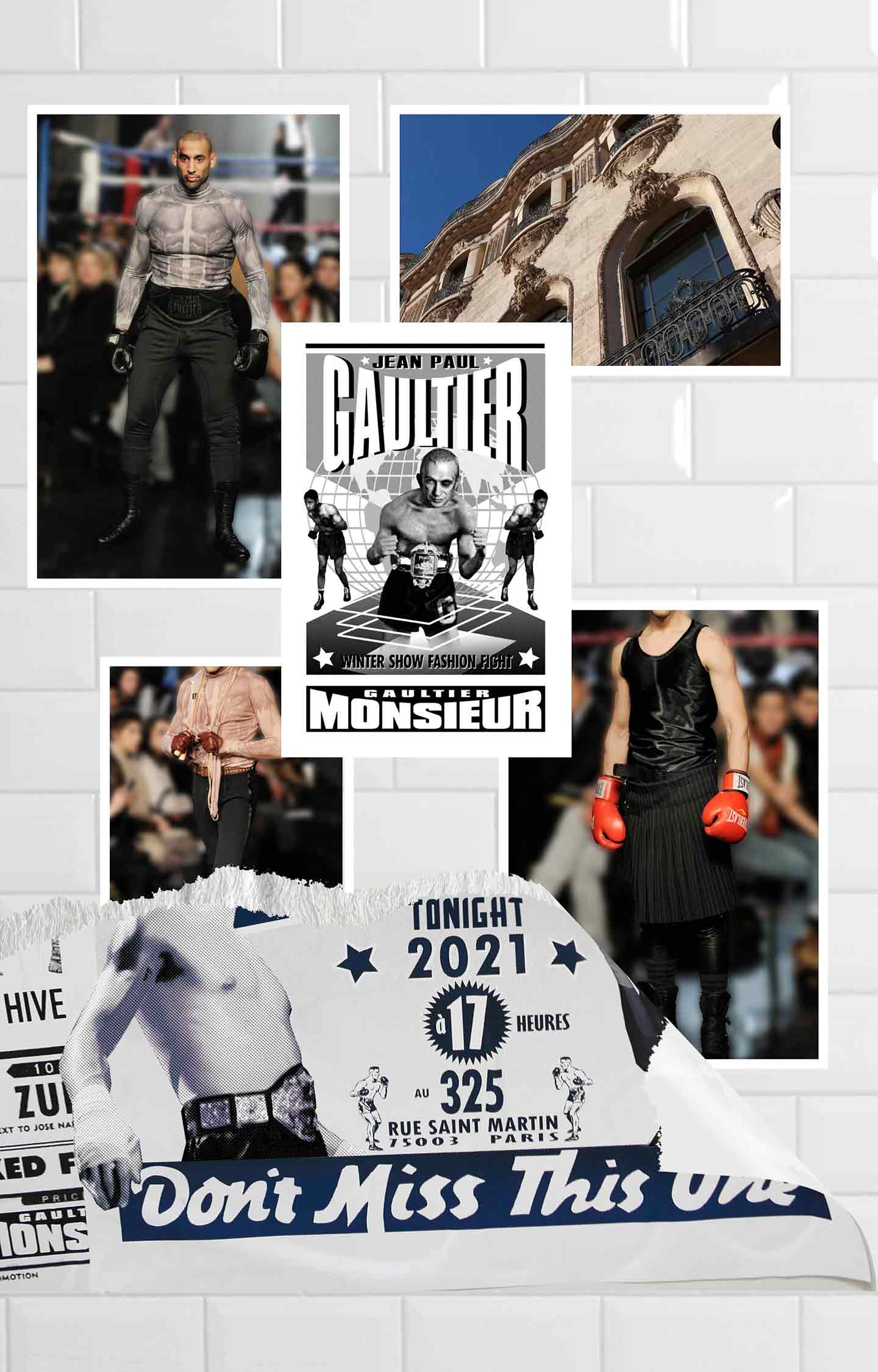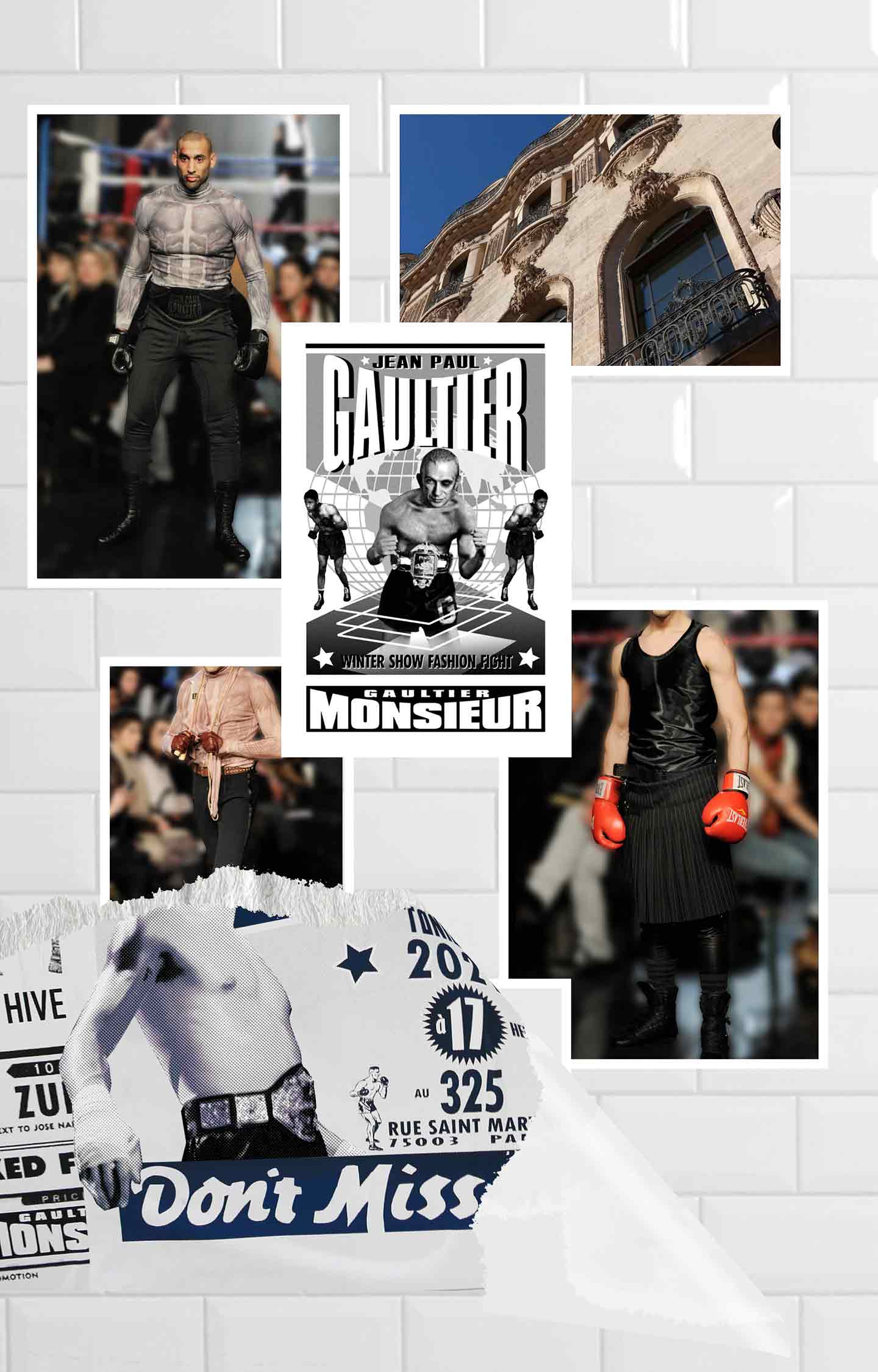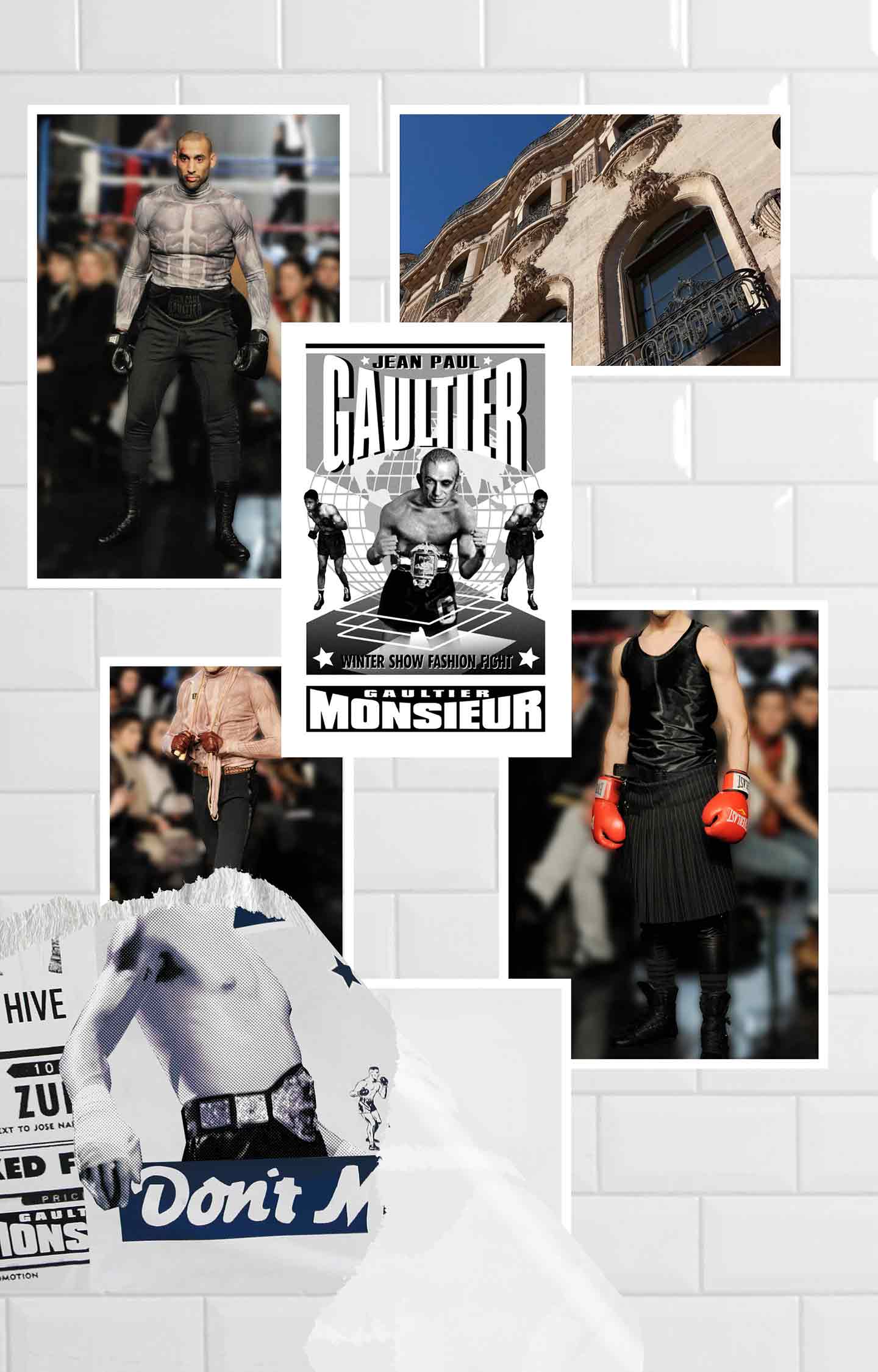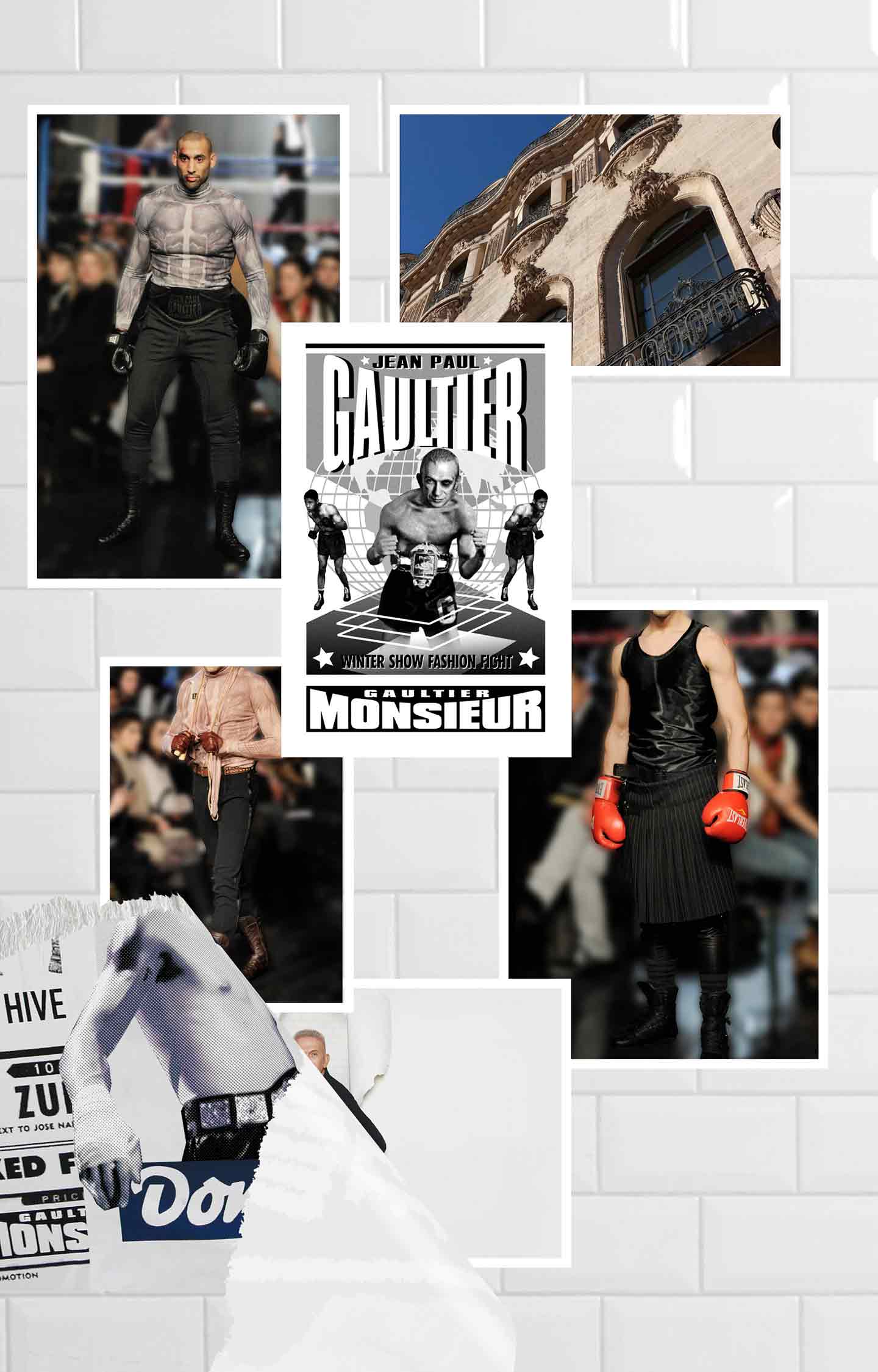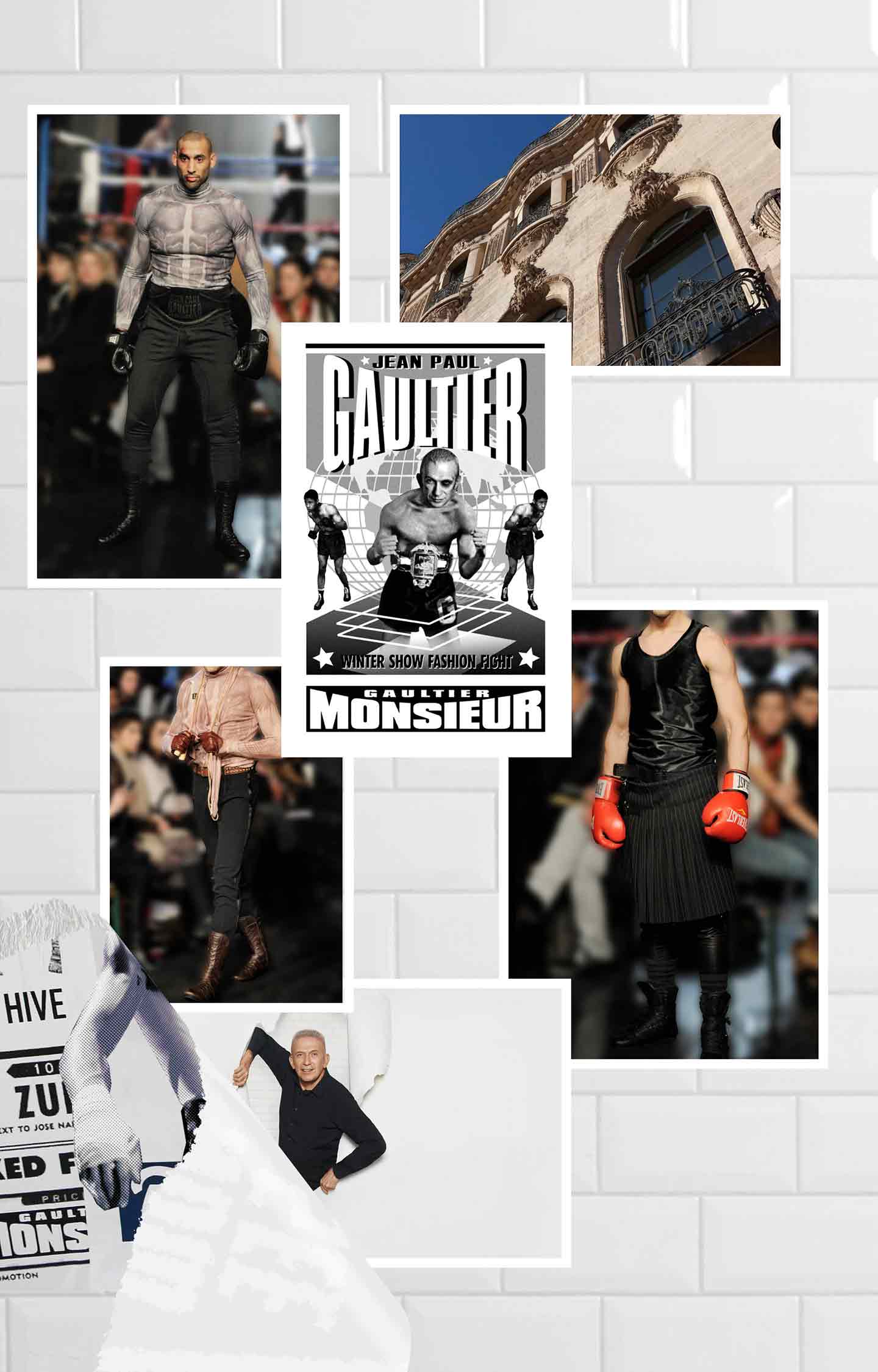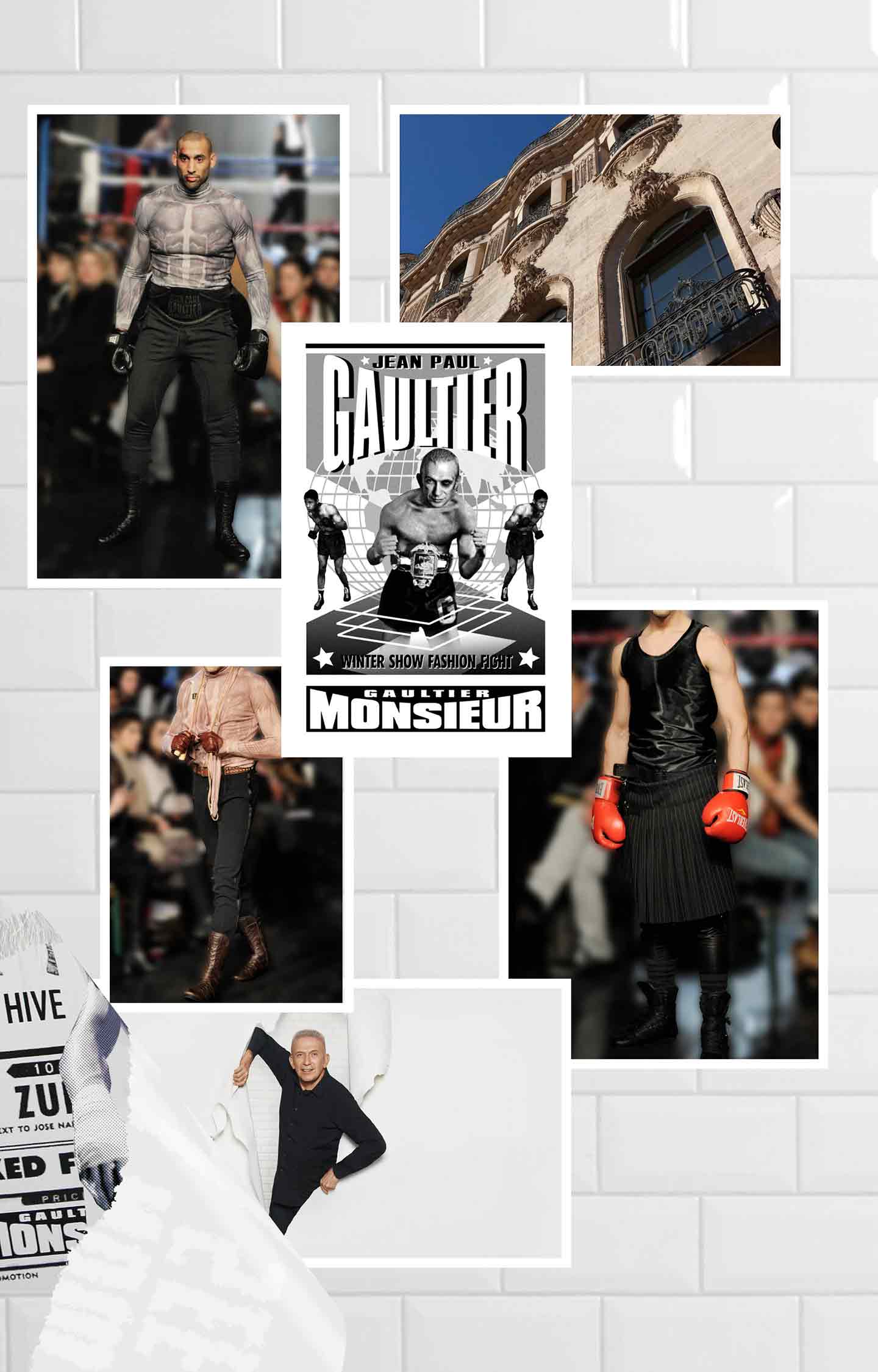 IN THE RING OF THE GAULTIER MONSIEUR 2010 FASHION SHOW
This boxer burst forth in scandal for the first time during the Gaultier Monsieur 2010 Fashion Show. In the ring: sexy boxers and ultra-macho rogues show up for a chic and muscular show. They look angry, their pretty faces marked by bloody make-up, as they swagger past in printed workout apparel, velvet tracksuits, long shorts, and jackets with large hoods. A long dressing gown and maxi belt spar with suits and frock coats. Boxing gloves, bruises, and poses that seduce with a striking aesthetic.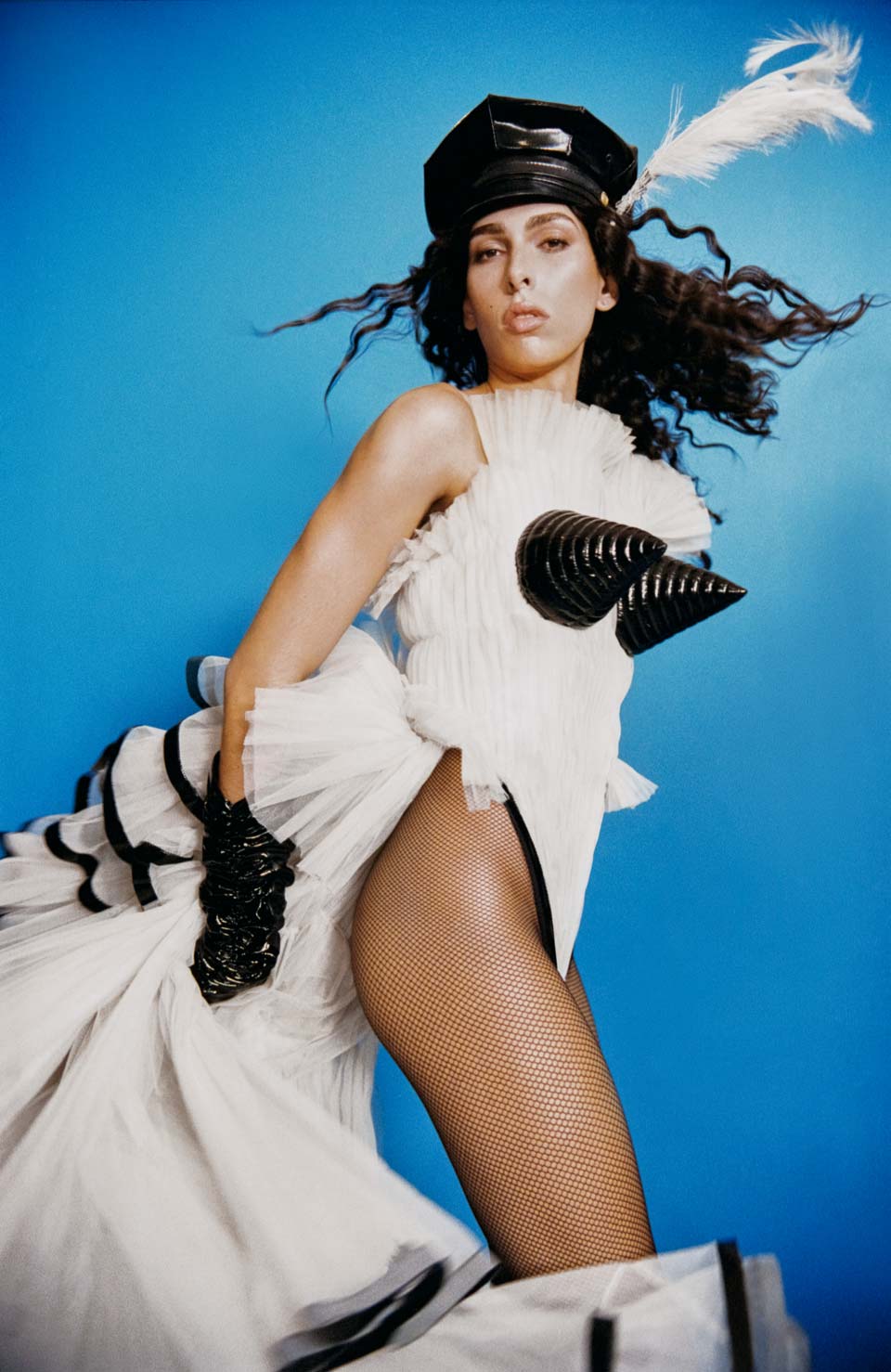 Boxing gloves, bruises, and poses that seduce with a striking aesthetic. Victory by punches. The Haute Couture of combat sports, "the enfant terrible of fashion" loves to provoke by mixing genders and masculine social codes, until his final goodbye, his face artificially battered and bruised. Ready to go back in the ring with new collections and dare all!
Advertising round one
Raise the curtain...and let the show begin! For his first advertising championship, the new Jean Paul Gaultier boxer makes a triumphal entrance to the cries and applause of a frenzied crowd of fans. Bare athletic chest, crowned with sex appeal, his charisma makes its way through the celebrating crowd up to the ring, spreading the SCANDAL with amused nonchalance. At ringside in this Haussmannien venue, Rossy de Palma and the famous clique of the Maison Gaultier are there to cheer him on.
At the centre of attention, boxing gloves on, his virility increases the tension and attracts the new SCANDAL for women muse, scandalously sexy and bold. Face to face with the champion, her irresistible sensuality goes on the attack: a game of dodging and addictive seduction that sends him against the ropes before the passionate embrace of the second round that makes All Paris tremble. The walls crack, the chandeliers come crashing down, the Eiffel Tower wobbles. "What a scandal! ", spectacularly Gaultier.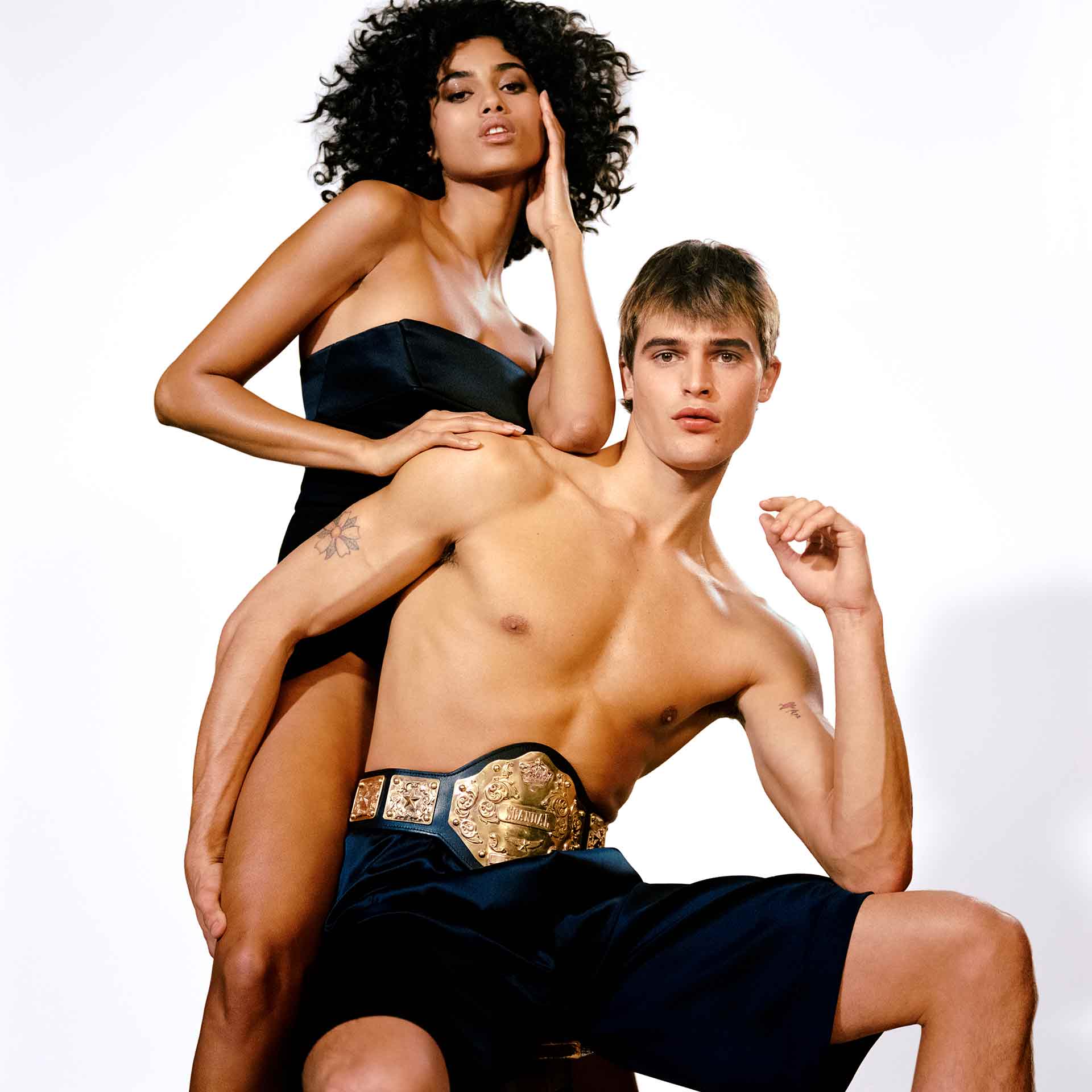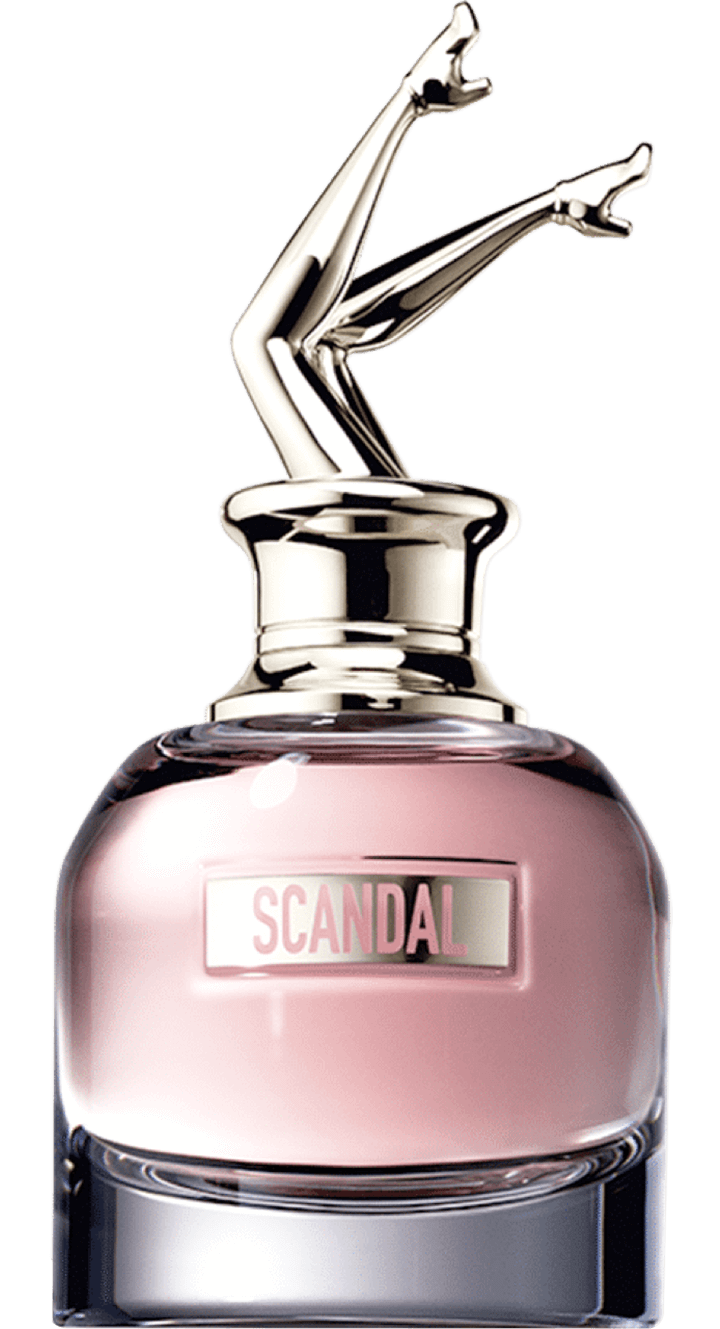 SCANDAL
eau de parfum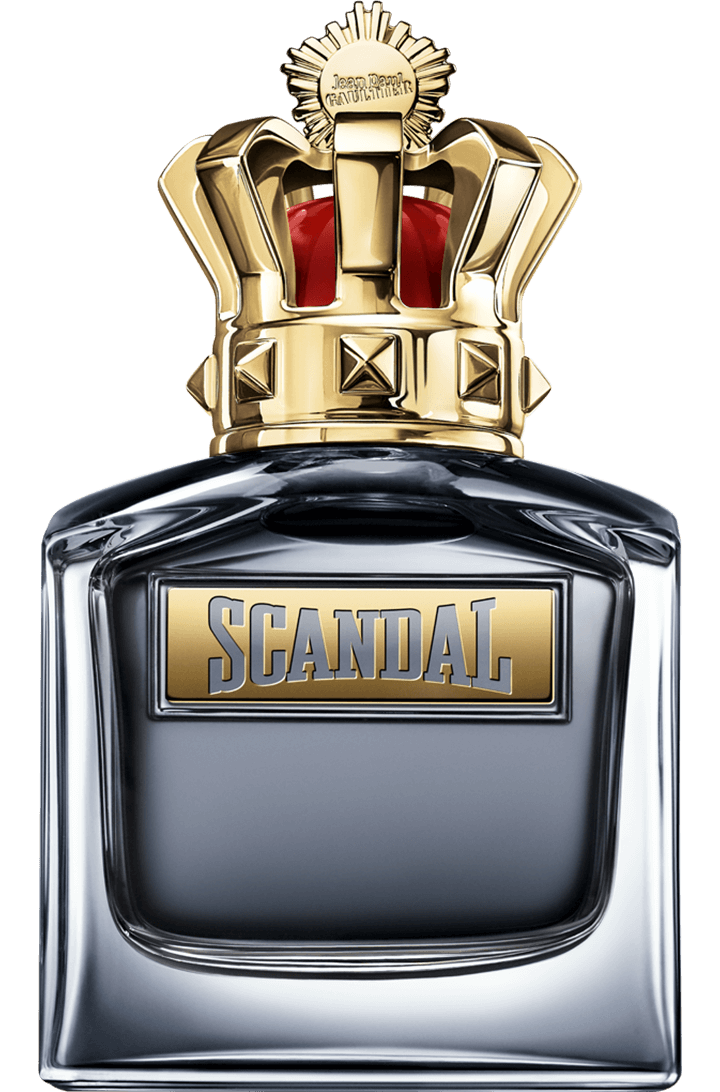 SCANDAL pour homme
eau de toilette